"The Highwayman" - The Argument.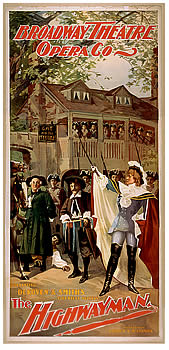 Poster, c. 1898
John Hawkhurst, becomes a highwayman, and wins notoriety as "Captain Scarlet." Lady Constance Sinclair, who loves Dick, disguises as Scarlet and "holds up" a stage coach in order to obtain Dick's pardon which has fallen into the hands of Hawkhurst. Lieut. Rodney, one of Nelson's officers, also disguises as Scarlet in order to carry off Pamela, his sweetheart, who is travelling in the same coach. A third masquerader as Scarlet is Toby, 'ostler of the Cat-and-Fiddle', who is told by the bar-maid, Dolly, that she will not marry him unless he proves himself a hero. The three alleged Scarlets are all arrested by different officials, who are after the thousand pounds reward offered for the highwayman.
Conspicuous among these minions of the law are Constable Quiller, of Bow Street, and Lieut. Lovelace of the militia. The real Captain Scarlet (Dick Fitzgerald) meanwhile, as a lame peddler, makes game of his pursuers, and represents himself as Lord Kilkenny, an Irish nobleman, from whom he has taken proofs of identity. Dick devotes his efforts to freeing those who have pretended to be Captain Scarlet, but is finally brought to bay by the appearance of the real Lord Kilkenny. Constance produces his pardon, however, and the customary happy matrimonial denouement ensues.
---
American Musical Theatre |
Page created 11 December 2016 Copyright © 2016 Paul Howarth All Rights Reserved