by John Sands
By the age of thirty-six, Arthur Sullivan had accumulated a wealth of conducting experience, at the Three Choirs, Brighton, Norwich and Birmingham Festivals, at the Crystal Palace, at the Glasgow Choral and Orchestral Union (1875-1877), at the Royal Aquarium (January to August 1876), and in the pit of numerous London theatres including the Gaiety and the Opera Comique. His association with the Covent Garden Promenade concerts began with invitations to conduct performances of his own music (on 18th October 1873, designated a 'Sullivan Night', the composer conducted his Cello Concerto, Overture di Ballo and music to The Tempest and The Merchant of Venice). The concerts were an established part of London's musical calendar.
Between 1874 and 1877 the Promenade seasons had been conducted by Luigi Arditi (1822-1903). His programmes were significantly more sophisticated than those his predecessors:
"As music is now represented in the metropolis exclusively by the 'Promenade Concerts' at Covent Garden Theatre, it is satisfactory to find that the direction of them is entrusted to so eminent an artist as Signor Arditi, and that the programmes rarely include such sensational pieces of clap-trap as those which had their origin in the days of M. Jullien [Louis Antoine Jullien, 1812-1860], and have been continued down to very recent times. [However,] in the selection of music the taste of the audience is somewhat underrated; and it might be well to consider whether, having formed what is advertised as the 'finest coup d'œil in the world', attention should not be directed towards forming an equally attractive feast for the ear." (The Musical Times, September 1876)
In fact, Arditi's choice of music was generally remarkable for its cultured tone. He did much to popularise Wagner's music in England through the Promenade Concerts, giving Wagner Nights that included his own Grand Selections from Tannhauser and The Flying Dutchman. At the final concert of the 1876 season (20th November) the entire first half was devoted to the Bayreuth master and included a New and Grand Selection from Die Walküre and the Grand Funeral March from Götterdämmerung. There was also a Weber Night (13th September 1876), a Meyerbeer Night (20th September 1876), a Balfe Night (17th November 1876), a Mendelssohn Night (29th August 1877), a Mozart Night (5th September 1877), a Handel and Haydn Night (19th September 1877), a Sterndale Bennett Night (10th October 1877), a Gounod Night (15th October 1877), a Verdi Night (22nd October 1877) and Beethoven Nights which usually included one of the more popular symphonies.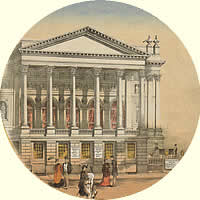 "[The Promenade Concerts] are certainly a boon to those lovers of music in its varied phases – from symphony and concerto to characteristic dance music, from operatic scena and air to ordinary song and ballad – who during [the Summer] when all, occupations and means permitting, too willingly emigrate for a time, in search of "fresh fields and pastures new" are compelled to remain in London […] Nor can we overlook the many people from the country, to say nothing of foreigners, who are induced to visit the great capital at this sultry epoch." (The Times, 5th August 1878)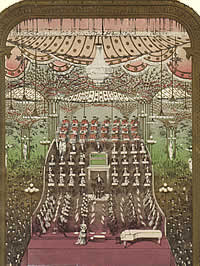 The 1878 Promenade Concert series was under the joint-directorship of theatrical impresarios Agostino Gatti (1841-1897) and his brother Stefano (1844-1906). They appointed Sullivan as chief conductor for an eight-week tenure beginning on 3rd August. James William Davison (1813-1885), the music critic for The Times and the Musical World, would take especial notice of the early weeks of the series and heartily approved the choice of musical director:
"That our gifted musician, who has done so much to prove himself a worthy representative of English art, will strive his utmost to impart a legitimately musical tone to the present series of concerts is beyond dispute. This, in fact, is already declared by the announcement that on each successive Monday a symphony by Beethoven is to be performed […] On each Wednesday, moreover, there is to be a "classical night", so termed. That on these special occasions Mr. Sullivan, with his extensive knowledge of the works of great masters, will make the selections as varied and as interesting as lies in his power may be taken for granted." (The Times, 5th August 1878)
Besides suggesting the scaffolding structure of Beethoven's symphonies,Sullivan also took the opportunity to programme several of his own compositions. Whilst certainly incomplete, the following list is indicative:
Selection from The Sorcerer – Saturday 3rd August, Tuesday 6th August, Wednesday 7th August, Saturday 10th August,

Procession March – Tuesday 6th August, Saturday 7th September,

Incidental music to Henry VIII – Saturday 10th August,

Overture di Ballo – Thursday 15th August, Friday 23rd August, Saturday 7th September,

Incidental Music to The Merchant of Venice – Friday 16th August,

Incidental Music to The Tempest – Friday 30th August,

Selection from H.M.S. Pinafore – Saturday 17th August, Saturday 24th August, Monday 26th August, Thursday 29th August, Saturday 31st August, Wednesday 4th September, Saturday 7th September, Monday 9th September, Saturday 14th September, Monday 23rd September, Friday 27th September.
To entice the public, a roster of renowned artistes had been engaged to perform during the season: sopranos Anna Williams (1845-1924) and Edith Wynne (1842-1897), contraltos Janet Patey (1842-1894) and Antoinette Sterling (1850-1904), tenors Edward Lloyd (1845-1927) and Barton McGuckin (1852-1913), and the baritone Michael Maybrick (1841-1913, otherwise 'Stephen Adams', composer of many songs including The Holy City). Pianists included Caroline Montigny-Rémaury (1843-1913) from France, Charles Hallé (1819-1895) and Miss Josephine Lawrence, a pupil of Arabella Goddard.
The opening concert on 3rd August featured the overtures to Weber's Oberon and Rossini's Guillaume Tell, Mendelssohn's first Piano Concerto (played by Josephine Lawrence), the Prelude to Act III of Wagner's Lohengrin and something representative of the conductor:
"the second part of the concert […] began with a very showy selection from Mr. Sullivan's comic opera The Sorcerer, for full orchestra, associated with the band of the Coldstream Guards, under the able direction of Mr. Fred Godfrey. The whole is put together by Mr. George Jacobi (of the Alhambra) with ingenuity and happy effect, and the melodies are so fresh and telling that the fantasia sounds bright and catching from end to end." (The Times, 5th August 1878)
The reception of Beethoven's first Symphony on Monday 5th augured well for the series:
"If the remaining seven symphonies of Beethoven [omitting the ninth] which are to follow in the due order of succession are performed with the same spirit, accuracy, and minute attention to light and shade as the first in C minor, on Monday night [5th August], under the direction of Mr. Arthur Sullivan, amateurs of good music will have cause to rejoice. (The Times, 12th August 1878)
Sullivan's technique, taste and attention to detail attracted the warmest praise. His chosen tempi clearly did not sacrifice accuracy for the sake of excitement:
"The performance [of Schumann's Spring Symphony on Wednesday 7th August] showed how thoroughly Mr. Sullivan had studied the work, how he had mastered all the "nuances", all the delicate shades of feeling and expression that distinguish it." (The Times, 12th August 1878)

"We could hardly have wished for a better performance [of Mendelssohn's Italian Symphony] than that of Wednesday night [14th August]. Mr. Sullivan timed each movement as precisely as Mendelssohn would have done himself, and the advantage of the finale being taken at a less prodigious speed than is too frequently the custom … brought with it incontestable advantages. Instrument after instrument could play its allotted part with ease, point, and clearness, and thus the "ensemble" fared all the better." (The Times, 19th August 1878)

"Instead of the absurdly quick tempo we are accustomed to [in Mozart's overture to Die Zauberflöte], Mr. Sullivan adopted a more moderate pace [at a performance on 17th August], and the consequence was that every point of the fugal development … came out with surprising clearness." (The Times, 19th August 1878)
A weekly pattern of themed evenings had been planned: besides the Wednesday 'Classical Nights', Friday was to be 'English Night', chiefly given over to native products. Alfred Cellier (1844-1891) was appointed assistant conductor, prompting speculation in the press as to the precise nature of his role. On 17th August, Punch wondered
"How does [Cellier] assist [Sullivan]? Does he give him a pick-a-back up the stairs? see him carefully into his chair? fan him when he's hot? liquor him when he's dry? put eau de Cologne on his pocket-handkerchief, and when the first part of the concert is over, does he with his friendly arm aid the exhausted Conductor-en-chef's tottering steps down-stairs again, and then turn on a lavender spray till he is quite recovered? I must go and judge for myself. But my night shall be a Classical Night. In this overpoweringly hot weather given me a Classical Night, and the lightest possible drapery of a Grecian pattern. Expect me, DR. SULLIVAN, on one of your Classical Nights. I shall come, with a boy carrying the latest edition of the Classics; as, if in appropriate costume, I sha'n't have any pockets. Yes, DR. SULLIVAN, you will "meet me once again", and I shall catch your eye when you're "looking back" [referring to two of Sullivan's popular ballads]".
In fact, Cellier often conducted the second ("Miscellaneous") half of the programmes. Perhaps as a reward, he had the opportunity to conduct three movements from his incomplete symphony at the concert on Friday 9th August. That summer was indeed unusually hot, and business at the theatres, including the Opera Comique, had slumped: on 17th August, determined to increase the audiences for H.M.S. Pinafore, Sullivan gave the first performance of a new selection from the comic opera. Arranged by Hamilton Clarke (1840-1912), it would become a regular and conspicuous feature at many of the subsequent concerts. On Friday 23rd August, Clarke had the opportunity to conduct his own Symphony in F:
"Amateurs know that Mr. Clarke is a composer of more than ordinary promise, and were therefore not surprised to hear a work of more than ordinary merit". [However, Sullivan's Overture di Ballo, in the same programme] "besides being intrinsically a spirited and characteristic piece of music, shows how a true master can put into logical and consistent form a series of themes each calculated to give life and charm to the spirit of the dance. The overture is in its way unique." (The Times, 26th August 1878)
On 16th August Sullivan wrote to his mother that
"The concerts are brilliantly successful, they never had such houses before and the Gattis are delightful. But we work precious hard, and Cellier is a model! He is indefatigable. J.W. Davison comes regularly, and detains everyone at every corner, and tells long stories which he never finishes – but no one minds as he is so kind […] The band is getting into splendid order, and some of our performances are very fine."
The mixture of 'classical' and 'popular' was drawing large and appreciative audiences. This clearly considered policy did not go unnoticed in the press:
"we ought not to forget Mr. Hughes, who manages that colossal instrument the ophecleide as if it were a child's toy, which his facile execution of the love song of Polyphemus, "O ruddier than the cherry" [from Handel's Acis and Galatea], sufficed to show. The audience like such tests of "virtuosity", and it is well to gratify them as often as it may be found expedient. They will listen, if thus bribed, with all the truer zest to a symphony, overture, or concerto." (The Times, 26th August 1878)

"That Mr. Arthur Sullivan is making these entertainments far more noticeable from a strictly musical point of view than they have ever been before is unquestionable […] While varying […] a sufficient quantity of light ad captandum pieces, instrumental and vocal, chosen so as to meet all fancies, Mr. Sullivan imparts artistic interest to every concert through the prudent admixture of works of another order – works that help to refine the taste no less than please the ear of the attentive listeners." (The Times, 19th August 1878)
Not every listener was suitably attentive, however. On Monday 26th August, when Beethoven's fourth Symphony was performed, the movement of the crowd proved distracting:
"It would not be a bad expedient, if practicable, to place some barrier on each side [of] the orchestra when the symphony is about to commence, and, as Mr. Arthur Chappell does at the Monday Popular Concerts, grant a pause of five minutes, which would allow those who have no mind for it time enough to go elsewhere, leaving the remainder of the audience, constituting by far the larger number, to their enjoyment undisturbed." (The Times, 2nd September 1878)
Besides the prestigious Beethoven cycle, Sullivan presented a wide repertoire of established works and novelties:
Auber's Exhibition Overture, Weber's Invitation to the Dance and Jullien's Quadrille based on themes from Verdi's Ernani (Tuesday 6th August),

Rossini's overtures Il Barbiere and William Tell, Gounod's overture Mireille and the March from Wagner's Tannhauser (Saturday 10th August),

Haydn's Military Symphony, Weber's Euryanthe overture and Schumann's Piano Concerto (Wednesday 21st August),

Mendelssohn's Ruy Blas overture, Bizet's music to L'Arlesienne and Mendelssohn's Violin Concerto (Saturday 24th August),

Spohr's Symphony The Consecration of Sound, Mendelssohn's overture Athalie and the slow movement of Mozart's Clarinet Concerto (Wednesday 28th August),

Auber's Haydée overture, Mendelssohn's Piano Concerto in G minor and the first performance of an overture entitled Jour de Fête by Edouard Marlois (Saturday 7th September),

Beethoven's Egmont overture, two extracts from Delibes' ballet Sylvia, Wagner's overture to Tannhauser and a March by Crowther Alwyn (Saturday 21st September).
Some of the novelties failed to score. The Times was dismissive of Saint-Saens' Le Rouet d'Omphale, performed on Monday 19th August, judging that the piece
"would sound much better on the pianoforte than in the orchestra. These "Poemes Symphoniques" begin to tire a little, seeing that they are seldom very poetical and never by any chance "symphonic"… Nor is Le Rouet d'Omphale by any means one of the best of them." (The Times, 26th August 1878)
Despite the occasional misfire, the concerts were indeed such a success that Sullivan's reappointment was confirmed for the following year. It was to be the same mixture as before:
"The arrangement entered into by the directors for the actual season being precisely on the scale which obtained such an unqualified approval last year are likely to satisfy, not only the very many who reside habitually on or near the banks of the Thames, but also those numerous pleasure-seekers from the country and abroad […]It may here be stated that the selection of the orchestra as well as that of the programmes for the first three or four weeks, and, indeed of the musical arrangements generally, is due to Mr. Arthur Sullivan, the "Magnus Apollo" of last season […] The endeavour to educate the masses up to a certain point is one thing, to "cram" them is another – the one may prove as deleterious as the other may tend, and does, to good. [During last year's series] Mr. Sullivan also suggested including in the miscellaneous programme on each successive Monday, as piéce de resistance, at the end of the first part, one of the symphonies of Beethoven – a happy notion, attended, it must be allowed, with happy results." (The Times, 11th August 1879)
However, when the 1879 season opened on 9th August, the "Magnus Apollo" was on the Continent recovering from surgery undertaken in Paris to crush a kidney stone. Whilst he recuperated in Switzerland, the first four weeks of the new season at Covent Garden were ably conducted by Alfred Cellier. The Victorian ideals of education and improvement were reassured by the continuing policy of eclecticism, programming both light and serious fare:
"The idea that a vast mixed crowd can be attracted to a "Promenade" concert solely by music that demands the strictest and most unremitting attention, and remain perfectly satisfied in the circumstances, is purely Utopian. That the more and more they are, by degrees, tempted to listen to such music the better, is unquestionable; but they must be coaxed, not forced in to it by their enthusiastic, uncompromising, would-be teachers; and as the Covent-garden concerts, no matter under whose directing mind, employ [the former] method, they deserve all the encouragement lovers of music for music's sake can bestow." (The Times, 1st September 1879)
The strategic programming of the first eight Beethoven symphonies again gave the 1879 season a cogent structure, as did the now-established 'Classical' and 'English' Nights. Alfred Cellier contributed one of the most prominent novelties of the season, which he conducted on Friday 29th August:
"We were somewhat disappointed with the promised "Selection" from Bizet's Carmen, not half of the sparkling and characteristic melodies of which are made use of. There is too much slow music in it … and a much less effective climax than might easily have been contrived." (The Times, 1st September 1879)
The selection must have been sufficiently well received by the audience, however, for Cellier to repeat it the following night (30th August). On that occasion the inordinate length of the programme necessitated the omission of a selection from Gounod's Faust despite its listing in the programme, proving that even the Victorian penchant for marathon concerts could be satiated. Another symphony (this time in G minor) from the pen of Hamilton Clarke was presented on Friday 5th September, but did not set the musical firmament ablaze:
"Strongly marked individuality is rarely looked for now-a-days; but it is always agreeable to listen to a work which, based upon the old-established models, is conducted [i.e. composed] throughout with the sure hand of a practised musician, who finds melodies capable of development and knows how to develop them." (The Times, 8th September 1879)
The programmes continued to combine the familiar and the novelty:
Rossini's overture William Tell, the Ballet Music and March from Meyerbeer's opera L'Africaine and a selection from Verdi's Aïda (Saturday 9th August)

Mozart's overture Die Zauberflöte, Mendelssohn's Italian Symphony and the Minuet by Boccherini arranged for string orchestra (Wednesday 13th August)

Beethoven's Symphony No. 2, Auber's overture Marco Spada and a Cello Concerto by Goltermann (Monday 18th August)

Flotow's overture Marta, Mendelssohn's overture Son and Stranger and Beethoven's Emperor Concerto (Saturday 30th August)

Mozart's Symphony No. 40 in G minor and the overture Calm Sea and Prosperous Voyage by Mendelssohn (Wednesday 3rd September)

Herold's overture Zampa, Liszt's Hungarian Fantasy for piano and orchestra, d'Albert's Waltz based on themes from Massenet's opera Le Roi de Lahore and the Moulinet Polka by Josef Strauss (Saturday 6th September)

Auber's overture Masaniello, Mendelssohn's Piano Concerto in G minor and a selection from Bizet's Carmen (Saturday 13th September)

Spohr's overture Jessonda, Beethoven's Symphony No. 6 and the Coronation March from Meyerbeer's Le Prophète (Monday 15th September)

Weber's Concertstuck for piano and orchestra, Beethoven's third Leonora overture and the Hurry Up Polka written by Sullivan's friend, Mrs. Ronalds (Saturday 20th September)
There were reappearances by Patey and Sterling, McGuckin, Lloyd and Maybrick, Charles Hallé and Madame Montigny-Rémaury, alongside mezzo-soprano Mary Davies (1855-1930), baritone Charles Santley (1834-1922) and Russian pianist Anna Yesipova (1851-1914, styled "Essipoff"). Sullivan had eventually resumed his duties at Covent Garden on Monday 8th September, conducting a programme which included Beethoven's fifth symphony. The season rolled on successfully towards its preordained conclusion, attracting large houses and garnering enthusiastic reviews, but Sullivan's health had been tested and found wanting: the mental and physical demands of an eight-week, forty-eight-concert season were immense. The conductorship of the 1880 Promenade season passed into the hands of the promising young composer Frederic Cowen (1852-1935) and Sullivan began his long association with an event which carried far greater prestige, the Leeds Triennial Festival.
---
---
Updated 26 December 2009. Copyright © 2009 The Gilbert and Sullivan Archive All Rights Reserved.