"IOLANTHE, or The Peer and the Peri," was produced at the Savoy on the night of November 25th, 1882, and five hours later, owing to the difference in time, the first performance opened in New York.
That five hours difference just allowed for a cable to be sent describing the enthusiastic reception of the opera in London, and it was read to the assembled audience in New York before the curtain rose, adding to the excitement and high anticipations which were fully justified by the performance.
The Company which played it had been trained in England and sent over completely equipped to give simultaneous performances, thus preserving the copyright. Gilbert and Sullivan were taking no more chances, they had learnt their lesson. Every effort was made to keep the name, plot and music of the new piece secret. The scores were carefully locked up after each rehearsal; but even so a good deal of information got into the papers.
As for the name, it was changed only one day before the first performance, from "Perola" to "Iolanthe" – rather to the confusion of the actors. Gilbert and Sullivan had wished to continue their series of lucky P's – Pinafore, Patience, Pirates of Penzance – but the word "Perola" did not sing well, and "Iolanthe" it became, a far more musical and attractive title. Even then, "The Peer and the Peri" added to it brought in the lucky letter.
It was like a dream come true when I saw my own name in the title rôle; I, Jessie Bond, who had begun so modestly and ploughed through so many difficulties; and my success was sweetened by so much kindness and such golden opinions from those with whom I worked, as well as from a public always for me most affectionate and appreciative, that it was doubly welcome.
My part in "Iolanthe" was written expressly for me. Gilbert was always considerate and thoughtful, and wished me to have one with not too much physical exertion, so as to spare my still weak ankle. He called to see me one afternoon, and told me about the new opera he was writing with a special part for me.
"You will not have to dance, and hardly to move," he said, "and as you are always laughing, I have written a song to show that you can be serious when you like. That song, "He loves," proved to be one of the successes of the opera.
Gilbert always had his eye on me as an actress, as distinguished from a singer, and was convinced that I had it in me to shine in bigger and more ambitious parts. He tried to give me a chance to do so, as I shall show later on, and I had many offers from well-known managers to leave the Savoy and throw in my lot with them; offers which for various reasons I did not accept.
Again, in "Iolanthe," Gilbert and Sullivan held up before the amused British Public, which loves to laugh at itself, a mirror in which its own ideas, foibles, and social conventions were most whimsically caricatured. The digs at Members of Parliament, party politics, and the House of Lords, were received with shrieks of delight, yet there was nothing so personal as to fit the case or hurt the feelings of any individual legislator, hereditary or elected. One personal allusion indeed there was, but the harmless fun of it made it one of the biggest hits of that memorable evening.
It was just a happy chance that set Captain Shaw, one of the best known and most popular men in London and Chief of the Metropolitan Fire Brigade, right in the centre of the stalls on that night of all others; and to this astonished man the Fairy Queen, advancing with outstretched arms, made her impassioned appeal:
Oh, Captain Shaw,
Type of true love kept under!
Could thy Brigade
With cold cascade
Quench my great love, I wonder!
The improved stage fittings and increased space of the Savoy Theatre made it possible to present "Iolanthe" much more effectively and elaborately than any of the previous operas. There was a great sensation when the fairies tripped in with electric stars shining in their hair – nothing of the sort had ever been seen before – and the splendid robes of the Peers, correct in every detail, deeply impressed the public on both sides of the Atlantic, and caused British Peerage stock to rise by leaps and bounds in the American Marriage Market.
The Palace Yard scene was another huge success, for there is nothing people like better than to see familiar things idealized and worked into a story.
Still another scenic triumph was the river from which Iolanthe emerges in the first act. It was a shallow trough of real water, and I was always afraid of slipping into it when I rose through the trap-door on my little platform, and crossed it on the lily-leaves which were my stepping-stones. I did in fact slip in once, when some idiot had repainted the lily leaves just before the performance, so I had to wade through the water and climb out feeling very cross, and with most realistic wet feet.
Realism can be carried too far, as it was when one night a zealous property man said to me:
"It'll be just like the real thing to-night, Miss Bond. I've put some frogs into the water!
"Then you'll just have to fish them out again," I retorted, "and the curtain won't go up until you do."
They had to catch those frogs in an inverted umbrella. Everybody got splashed and agitated, and the performance was delayed for some time.
Another very serious hitch in the proceedings occurred one night when the machinery of the little platform on which I stood to be wound up to stage level refused to work. There was I stuck half-way, they could not get me either up or down! Things like that are funny enough to look back on, but what overwhelming disasters they are at the moment! My "Iolanthe" contract was for six pounds a week, a rise of one third in my fortunes, and from that time my salaries rose steadily, if not so fast as I myself thought proper. Some such difference of opinion seems to be referred to in the following note from Gilbert, and I may remark in passing that his idea of what it was right for me to have and my own did not always coincide, for when just about this time I made one of my periodical demands for a rise, I didn't get it.
19 H

ARRINGTON

G

ARDENS


S

OUTH

K

ENSINGTON


19 Jan. 84
M

Y

DEAR

J

ESSIE

,
The moral of the whole thing is, come to me when you want anything, and if it's right that you should have it, you shall have it.

You have played Melissa admirably.

Yours always,

W. S. G

ILBERT

.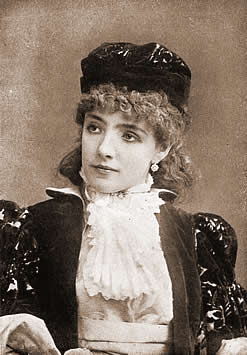 Gilbert here refers to my part in "Princess Ida," which succeeded "Iolanthe" on January 5th, 1884, and opened as brilliantly as all the others, though it failed to grip the public as they had done. The setting was magnificent, and the lovely music indicates what Gilbert and Sullivan might have done together if they had attempted grand opera. But in the libretto of "Princess Ida" Gilbert did not make his usual hit, there is something very laboured about it, and the jokes were too recondite and the language too Tennysonian (or as the gallery thought "too full of quotations from Shakespeare"), to please the popular taste. The subject also was less widely interesting than that of the other operas, or it may have been rather too domestically poignant in those early suffragette days, when not only the nation at large but private households and families were bitterly divided on the question, and the latent antagonisms of sex showed themselves in ugly forms. Perhaps Gilbert did not treat the subject lightly enough; to him, no doubt, as to everyone else, it lay a little too deep for jesting. At any rate, I could never feel that he had enjoyed creating it, and am sure that he turned with a sigh of relief to the delightful fooling of "Mikado," which was our next and immensely popular production. "Princess Ida" ran for ten months only, and was followed by revivals of "The Sorcerer" and "Trial by Jury," until on March 14th, 1885, the curtain rose on the enchanting Town of Titipu.
| | |
| --- | --- |
| | |
---
Page modified 19 November, 2008
Copyright © 2008 The Gilbert and Sullivan Archive All Rights Reserved.