Comments on San Toy
by W. MacQueen-Pope
Taken from Chapter Six, Daly's, the Delectable, of the book Carriages at Eleven, The Story of the Edwardian Theatre, Hutchinson & Co., 1947.
With Edwardes everything must be in focus. There must be no gigantic figures in the foreground with everything else tailing off in perspective. It was not enough just to give the one or two stars a couple of good numbers and dances and let the chorus jump around. The musical comedies were as carefully made and constructed as any play by Pinero; a perfect mixture of song, music and story. There was no assault on the senses by a mass of lightly clad girls `hoofing' and performing acrobatics. If our senses were assailed by force, it was an attack to which we readily surrendered and which carried us away, for it was done not by means of massed physical effort but by music — music delightfully written, expertly scored and beautifully sung, and it occurred at the end of the first act. For then one had a musical finale, which was the link between the fading days of light opera and the growing days of musical comedy. That first act finale was something to hear and remember. It was always encored and it was worth it. Perhaps it was the keynote of the difference between the Georgian musical show and the Edwardian. For the Georgian musical show is largely an appeal to the eye. The Edwardian musical show appealed to the eye but it appealed also and most importantly to the ear. It never forgot that it was a musical comedy. To-day one wonders why they are not called Dansical comedies or costumical comedies.
They needed no microphones at Daly's. They had never heard of them. They would not have been allowed. For George Edwardes had no use for people who could not be heard. Their place was not in the theatre. All of his artistes knew their job, were trained in it, and understood music. They were primarily singers, and, just a short head behind, they were actors and actresses. Marie Tempest, for instance, to leave him in San Toy, became the Queen of the Stage and was regarded as our finest actress. She was just as good an actress whilst she was at Daly's as ever she was later. And how she could sing, too. Rutland Barrington knew how to point every word, and how to sing a song with the best of them. He had learnt all that in Gilbert and Sullivan. If Hayden Coffin was a little stiff, he had masculine glamour and a delightful voice. And when he played a naval officer, as he so often did, one realized why every nice girl loved a sailor. Huntley Wright, the comedian who was Daly's fun personified, was a nimble dancer and an expert singer.
It would perhaps be right to place San Toy as the first of the Edwardian shows at Daly's. It was produced on 21st October 1899. The Victorian era outside the Theatre was drawing to its close under the shadow of the Boer War. Here was Edwardes at his best, presenting a mixture provided by masters of their arts. Here were scenic settings by Joseph Harker, and costumes by Percy Anderson. Here was a book by Edward Morton. And here was a cast which glittered — Marie Tempest, Hayden Coffin, Rutland Barrington, Colin Coop, Hilda Moody, Gracie Leigh, Maidie Hope, Scott Russell, Lionel Mackinder, Fred Kaye, Topsy Sinden, and Huntley Wright. Many playgoers always claimed that San Toy was the Guv'nor's best effort. It certainly ranks with the best. It challenged The Geisha. It had a lighter touch, an added air of gaiety. It was a piece of sunshine with all the colour of the East in it. It gave us memorable songs. Who will forget `Rhoda and Her Pagoda'? Who will forget `Chinee Soldier Man, he Wavee Piecee Fan' as described by Huntley Wright? And Hayden Coffin's song, `Motherland.' We were patriotic then and not ashamed of it. Times have indeed changed. Those two Daly's plays — The Geisha and San Toy — were Japan versus China. And China, as represented by San Toy, won, for it ran one week longer — 768 performances against 760 of The Geisha. A close thing, but a victory.
And don't think there was no dancing. Not by any means. But this was, in general effect, a background. A company of lovely girls in beautiful dresses moving gracefully and in time to the music, nothing sensational, but just a perfect piece of the wonderful jig-saw contrived and fitted into place by Willie Warde, who knew all there was to be known about the dancing in those days and who could act and sing as well. We always had a pas seul, and in San Toy it was given us by Topsy Sinden, the very incarnation of grace. We had just enough, not too much.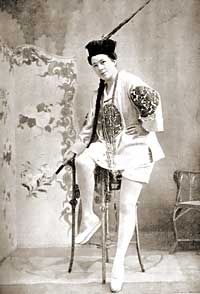 San Toy was to mark changes at Daly's. Marie Tempest left during the run. The battle was with Edwardes. He wanted her, as a Chinese boy, to wear Chinese trousers. Marie Tempest wanted shorts as being more becoming. She won, but she left. She was replaced by Florence Collingbourne. And during the run, Gracie Leigh was replaced by Ethel Irving. That replacement was not permanent, for Gracie came back to Daly's afterwards and was with Edwardes for years. Marie Tempest never did. But when Ethel Irving was in San Toy a sketch was put in, written by Harry Grattan, another Edwardes stalwart at the Gaiety. It was a little gem of drama, with a tragic ending, played by Huntley Wright and Ethel Irving. Both showed then that in after years they were to be stars of the straight stage as well as the musical. It was received with great favour and applause, but when Edwardes took a second look at it, he cut it out. It was magnificent, but it was not Daly's. He was undoubtedly right.
Daly's was indeed a training ground for the legitimate theatre. So many of its people, both men and women, afterwards shone in straight plays — Huntley Wright, Hayden Coffin, Marie Tempest, Ethel Irving, Lennox Pawle, Sybil Arundale, Rutland Barrington, Tom Walls, to mention only a few. No wonder we had something unique in the Daly's musical plays. San Toy marked an epoch. It added the final touch to the greatness of Daly's. It drew all the smartest of the smart. It made it a different theatre to any other playhouse. And it gave the name to the most successful racehorse Edwardes ever had.
The terrific figure of George Edwardes, the Guv'nor, has dwarfed so many of his lieutenants, who were themselves giants. And nobody has suffered more in this respect than Sidney Jones. That gifted and essentially British composer gave us music which was truly first class. He was always in the picture. He was always the perfect purveyor of songs for the people who had to sing them. His musical comedies stand in a class by themselves. The Geisha, An Artist's Model, A Greek Slave, and San Toy, those were his Daly's plays. They form a perfect gallery of what musical comedy should be, as regards scores. They stand as an achievement which since his day has never been bettered, if indeed it has been equalled. To his credit also are A Gaiety Girl, My Lady Molly and The King of Cadonia, but they were not at Daly's. But Jones can stand for the music of Daly's — which was, and still in part is, the music of our lighter stage in excelsis. It was certainly the best music of the Edwardian Theatre.
---
Page created 22 February 2017 Copyright © 2017 Paul Howarth All Rights Reserved