Very few people have countenances which are equally well. suited to a naval captain, a judge, a sergeant of police, and a vicar. Mr. Sheffield is an exception, and his Captain Corcoran in Pinafore is excellent from beginning to end. The end is rather unfortunate, because he becomes a mere sailor (where he looks all wrong) when Ralph Rackstraw turns out to be the Captain (where he looks all wrong). Mr. Lytton is, needless to say, perfect, albeit in a none too sympathetic part; for Sir Joseph Porter is really rather an unpleasant person, and it is entirely impossible to dislike Mr. Lytton at any time. Miss Griffin sings delightfully, and Miss Sharp, whose great ability is given little scope in this opera, looks particularly pretty as Sir Joseph's neice. Pinafore is deservedly popular. To audiences in crowded inland cities it brings the real atmosphere of the sea, while I have no doubt that audiences in naval ports will always be peculiarly entertained by the amusingly inaccurate portrayal of life aboard one of His Majesty's ships.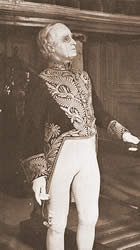 Trial by Jury, followed by Pinafore, indeed makes an almost ideal evening's entertainment. The former is as fantastic as any of the operas, and Mr. Granville's usher this season was played with real genius. Mr. Sheffield usually sings in a quiet and rather confidential manner; but in one of his songs, as the judge, he brings out a note of extraordinary power, which dominates chorus, orchestra, and audience alike. It is a truly fine note and, so far as I can recollect, was only heard in this opera.
The other short opera, Cox and Box, was interesting and well performed, and, on one occasion, afforded further evidence of the astonishing degree of intensity with which Mr. Fancourt becomes the part he has to play. So carried away was he by being called Bouncer, that in making a quick exit he bounced into the doorpost, and must have caused some momentary consternation among the stage staff.
---
Page modified 23 August 2017 Copyright © 2017 Paul Howarth All Rights Reserved.