In May 2007, my group, the Chapel End Savoy Players (north east London, UK), performed Greenbank and Cellier's "Captain Billy" at the Deaton Theatre, Snaresbrook, London. As far as I can discover, we were the first Society (amateur or professional) to stage this little curtain raiser since the Leicester G&S Society performed and recorded the piece with piano accompaniment in the early 1970's. We are also, as far as I know, the only group to have performed "Captain Billy" with full orchestra since the original performances at the Savoy!
We decided to resurrect the show was because we had selected "The Pirates of Penzance" as our main show for 2007 and since it is one of the shorter operas in the canon, we elected to add a curtain-raiser. Our Musical Director, Graham Offord, insisted that the curtain-raiser should be no longer than 30 minutes and we had already rejected "Trial By Jury" as we were moving into a new venue and had concerns about large-scale scene changes.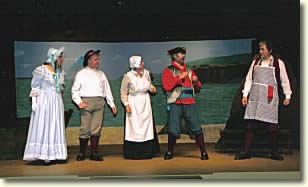 Consequently the committee of Chapel End placed an order for a short curtain-raiser with a piratical theme! I'm not sure they thought we'd be able to come up with the goods, but I consulted my friend and fellow Chapel Ender Dr. Vincent Daniels and within a few hours we'd settled on "Captain Billy". A piano vocal score was obtained without too much trouble and utilising the libretto available on the Archive I set to work on revising Greenbank's book. There were two reasons for this: firstly the original book, although clever and well-written, would have brought the show in at about 45 minutes and that was too long for our purposes; secondly we felt that Greenbank's original with references to the horrors of wandering from the path of religious orthodoxy and some complex dialogue on the science of algebra, might be rather inaccessible to our 21 st Century audience. Inspired by the revised book used by Leicester G&S Society nearly 40 years earlier, I pruned the libretto, made a few simple plot changes, and packed the book with references and quotations from the Gilbert and Sullivan Operas in the safe and sure knowledge that the aficionados would love it!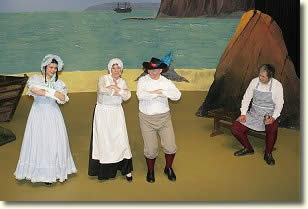 We originally intended to perform "Captain Billy" with just a piano accompaniment, but after advertising on Savoynet our intentions to stage this long-lost piece, we were fortunate to make contact with Chris O'Brien, an expert on Savoy curtain-raisers who offered to transcribe the orchestral parts which already existed in the D'Oyly Carte Archive. We, of course, accepted Chris's offer with gratitude! Further work on the score was carried out by our rehearsal pianist Jonathan Pease, who adapted Chris's score for our slightly smaller 14 piece orchestra.
Rehearsals went well and I will never forget the thrill of hearing the "Overture" – an orchestral version of one of the verses to Captain Billy's song – at band call before the show in the knowledge that we were, in our way, making history! The show was well-performed with excellent contributions from our MD and the orchestra and deft guidance from our Stage Director, Rowena Sayer. The audience certainly enjoyed the show, appreciating Cellier's catchy tunes and laughing in most of the right places! We received many very positive comments and it was clear that resurrecting this long-lost piece had created plenty of interest.
Inspired by our success, we intend to stage another of the Savoy curtain-raisers in the near future. "Mr.Jericho" by our friend Harry Greenbank and Ernest Ford is the favourite. There is also a strong possibility of these curtain-raisers being offered to a wider audience next year! Whatever the future, we had a great time performing "Captain Billy"!
Nick Dobson
Vice Chairman
Chapel End Savoy Players
The cast of "Captain Billy" as performed at The Deaton Theatre, Forest School, Snarebrook, London from 16th – 19th May 2007, was as follows:
| | |
| --- | --- |
| Captain Billy Jackson (a Pirate) | Nick Dobson |
| Samuel Chunk (stage name of Philip Jackson) | Vincent Daniels |
| Christopher Jolly (his son) | Robert Brown |
| Widow Jackson | Diane Conway |
| Polly Jackson (her daughter) | Marilisa Valtazanou |
Musical Director: Graham Offord
Stage Director: Rowena Sayer.
---
Page modified 30 August, 2011 Copyright © 2007 The Gilbert and Sullivan Archive All Rights Reserved