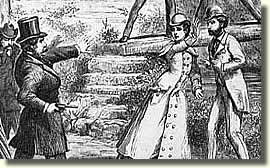 Engaged was produced at the Haymarket Theatre on 3 October , 1877, Miss Marion Terry playing the leading part. Engaged is a humorous farce with a definite suggestion of the "topsy-turvydom" of the Gilbert of the Bab Ballads and the operas, and it has a proper place in the story of Gilbert's considerable achievements. It was produced in the same year as The Sorcerer. The first act takes place in a Scottish cottage, near Gretna, and it opens with the courting of Maggie Macfarlane by Angus Macalister. Angus explains to his future mother-in-law:
"I'm a fairly prosperous man. What wi' farmin' a bit land and gillieing odd times, and a bit o' poachin' now and again ; and what wi' my illicit whusky still — and throwin' trains off the line, that the poor distracted passengers may come to my cot, I've mair ways than one of making an honest living — and I'll work them a' nicht and day for my bonnie Meg!"

A train is wrecked, the distracted passengers arrive, and the fun begins, the dramatist burlesquing romantic drama with a gusto that Mr. Shaw might well envy. The dialogue is excellent. For example:
MINNIE. Mr. Belvawny, I don't know what we should have done without you. What with your sweet songs, your amusing riddles, and your clever conjuring tricks, the weary days of waiting have passed like a delightful dream.

MISS TREHERENE. It is impossible to be dull in the society of one who can charm the soul with plaintive ballads one moment and the next roll a rabbit and a guinea-pig into one.
The conclusion is pure Gilbertian. The heroine speaks:

"Belvawny, I love you with an intensity of devotion that I firmly believe will last while I live. But dear Cheviot is my husband now; he has a claim upon me which it would be impossible — nay, criminal — to resist. Farewell, Belvawny; Minnie may yet be yours. Cheviot — my husband — my own love — if the devotion of a lifetime can atone for the misery of the last few days, it is yours, with every wifely sentiment of pride, gratitude, admiration, and love."
Text from W.S. Gilbert, His Life and Letters by Sidney Dark and Rowland Grey
---
Script, submitted to the Archive by Andrew Crowther.
Comment in "English Theatre in 1881", The Times, January 28th 1882.
---
Archive Home | |
Page modified 14 August, 2011 Copyright © 2009 The Gilbert and Sullivan Archive. All rights reserved.