SCENE I
Don Sallust's room in the Palace, Madrid. At back are curtains to rise, right and left. Servants, superintended by Gudiel, discovered in the act of packing boxes; and the stage, generally, must be so designed as to convey thenotion that Don Sallust's family is going out of town in a hurry.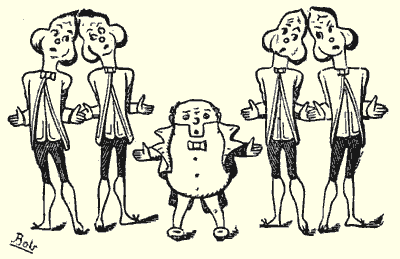 CHORUS OF SERVANTS
AIR. — "Oh, dear, what can the matter be?"
Oh, dear, what can the matter be?
Dear, dear, what can the matter be?
Sallust must surely as mad as a hatter be,

Growling away like a bear!
He's leaving Madrid at the height of the season
Without even giving his servants a reason,
It smacks very strongly of murder or treason,
But that isn't our affair!
Enter Don Sallust, in a great rage.
Don Sallust. How, now, base slaves, is't thus you take your ease?
Here, Gudiel, stop this bad yell, if you please.
[Gudiel motions them all to be silent.
(Sarcastically.) I didn't know you sang — though I must say
I've found out, to my cost, that you could play!
Now, I'm not partial to the occupation
Which some folk call, I say, fo-cal-i-za-tion.
If you begin that "opening" agen,
'Twill be a bad one for some nice young men.
The servants take various goods, with which the stage is covered (and which should be of a "comic" description such as a perambulator, warming pan, hip-bath, and so on), and beat a sulky retreat.
Gudiel. My Lord, may I request an explanation
Of this most unexpected emigration?
Now that Madrid is full, your leave to take,
Does seem a drid-ful sacrifice to make;
The almanacs proclaim the height of season,
Yet you depart — and all men ax the reason.
(Slyly.) Perhaps a lady's caused you to be sent to exile?
Sall. (aside) Humph ! Your guess is exile-ent
Gudiel.Or pr'aps you've robbed from Paul to square with Peter?
Sail. (impatiently) Turn off your guess and listen to my metre.
SONG — SALLUST

AIR. — "Kiss me quick and go."

One day the Queen's own waiting maid
Upon the stairs I met,
And 'tween the girl and me arose
A trifling amourette:

But she told her Majesty, they say,

I'd promised her to wed,

So the Queen took me aside one day,

And what d'ye think she said?
Gudiel thinks — then, as if struck by an idea pretends to whisper to Sallust. Sallust says "No," very decidedly. Again Gudiel whispers a suggestion. Sallust again says "No," still more emphatically. The same business takes place a third time, when Sallust relieves Gudiel's anxiety.
Why, wed this chick or go, my honey,

Wed this chick, or go!

A slavey wife, or a banished life,

So wed this chick, or go!
Now I'm a high and mighty peer,

While she enjoys about

Ten pounds a year, and a pint of beer,

And a monthly " Sunday out."

I'll see her slammed and crammed and jammed

Before the girl I'll wed;

So I called the Queen aside, one day,

And what d'ye think I said?
Same "business" as at the end of the first verse. Some fun may be made out of the different tones in which Sallust says "No," as if shocked, or amused, or surprised, or indignant at Gudiel's whispered suggestions.
I'll pack up quick and go, my honey,

Pack up quick, and go.

What! pass my life with a slavey wife?

I'll pack up quick and go !
Gudiel. A breach of promise should be paid in fines,
But banishment!
Sall. Oh, Gudiel. it's hard lines!
The number of King Charles's foes I've killed,
The premiership I once so ably filled,
The jobs I've countenanced, the bosh I've spoken,
The promises for him I've made — and broken!
Yet, for King Charles's queen's entreaties scorning
I start from Charles' town, early in the morning.
All this, because I won't consent to wed
A girl who sweeps her floor, and makes her bed,
And lights her fire! This waiting-maid, you'll see,
Will "wait" a long time, if she waits for me.
Tho' we must fly like me before a tarrier
Unless I'm willing instantly to many her.
Think not that on my shoulders long will be
The yoke of this hard egg-sile. When I'm free
Like evil-omened birds well be behavin'.
Gudiel. (aside) It seems to me, already he's a ravin'!
Sall. There's nothing in a name, say many slow men
She'll find though there's a good deal in an omen.
When I return, to her 'twill carry sorrow.
Ha! ha! A thought! [Starts.
Guild. You start!
Sall. (recovering himself.) I do — to-morrow.
DUET. — SALLUST and GUDIEL.
AIR. — "Laughing Song," Manon Lescaut.
Sall.
An excellent suggestion,
That solves a knotty question,
Has just occurred to me.
Ha! ha! ha! ha! ha! ha! ha! ha!
Gudiel. (aside)
Well, I believe it barely,
Phenomenon we rarely
In this hidalgo see.
Ha! ha! ha! ha! ha! ha! ha! ha!
Sall.
The scheme will answer well. Ha! ha!
You'll promise not to tell. Ha! ha!
If I confide in you?
Gudiel.
I'm singularly sly. Ha! ha!
If on me you rely. Ha! ha!
You'll never, never rue.
Sall.
'Tis now the proper season
To hatch my plan of treason.
Gudiel. (aside)
High treason? Ho! ho! ho!
Sall.
Lest spies should here be hiding,
The plot I'd be confiding
In whispers soft and low.
[Places his mouth to Gudiel's ear, then, as changing his mind.
ENSEMBLE.
Sall.
No! no! no! no! no! no! no!

[Repeat.

Gudiel. (aside)
Oh, this behaviour is too bad,
He is a tantalizing lad.
It is too bad!
—talizing lad
—talizing — lizing lad!

At the end of the duet, exit Gudiel.
Sall. Ruy Blas! my crack-brain flunky! He most suffer —
A mazy, crazy, lazy, dazy duffer!
A poor romantic fool, without a brain,
Who loves — ha! ha! — Maria, Queen of Spain!
This state of things I wasn't long discoverin',
He's always hoverin' about his sovereign.
I'll clothe and fee him — introduce the man
As my lost cousin, Cæsar de Bazan.
And he shall wed her, for I'll plan it so,
Whedder she wants to marry him, or no.
But soft, he comes, and, very soft, I'll go.
Retires to back of stage on tiptoe.
Enter Ruy Blas, C., with Wellington boot an his left arm and a blacking-brush in his right hand. He comes down brushing the boot thoughtfully.
SONG — RUY BLAS.
AIR — "On the Banks of Allen Water."
On the banks of Tagus' water,
At M. A. D. R. I. D.,
Dwelt a monarch's lovely daughter,
She was fair as fair could be.
For his bride a young man sought her,
(And a fine young man was he),
O'er his haIf-a-pint of porter
He daily toasted she!
But around about that quarter,
Men fancied they could see,
'Twixt the maid and him who sought her,
Some slight disparity.
For her truckling toadies taught her
That the Queen of Spain was she;
While the nice young man who sought her
Was but a poor flunkee!
Maria! much desired better half!
I never told my love — for chaps might chaff —
But let concealment — there, you know the rest:
It's like my "damask cheek" to let my breast
Harbour a thought for one upon the throne —
A love that burns in secret — burns alone!
E'en if she knew how my unhappy fate
Deafens me to the call of tarnished plate,
Her wily councillors would still remind her
That I am socially so far behind her.
Absurd idea! Could an excuse be hollower?
If I'm behind her, I must be her follower!
Sall. Ruy Blas!
Ruy. Yessir!
Sall. Come here — attend to me.
I've often fancied, Ruy, that I could see,
In short, a sort of something in your eye,
Which said you were not born for liverye.
These liv'ried splendours, Ruy, you cannot love them?
These crested buttons —
Ruy. I've a soul above them!
A soul above my place. I feel, though poor,
Like Thaddius, that my birth is noble. You're
So precious careful that I'm neatly drest,
That I may add "unsullied is my crest"
[Showing his buttons, which are brightly polished.
The blood in torrents to my face will rush,
When I put on my powder and my plush,
My fellow-servants mock my weakness ivery,
And bait me so, because I stand at livery!
Sall. Ruy, I'll promote you to superior pay,
Be my amanuensis from to-day. [Ruy starts.
Your rise in life from this affair commences:
In other words, Ruy Bias, a man you hence is. [Ruy stands amazed.
Ruy. What! do I shed for aye these breeches fiery,
And drop your live-ry to keep year die-ary?
Sall. Yes; as the first act of your new estate,
Be good enough to write as I dictate.
[Ruy takes pen, ink, and paper, and prepares to write.
"I, Ruy Blas, flunkey, willingly agree
To serve Don Sallust, well and faithfully,
As waiting-man, for fifteen pounds a year,
My tea and sugar, and a pint of beer."
Ruy. But, I'm your secretary.
Sall. Sign, sir, sign.
It's only just a curious whim of mine:
To give me thus your airs my temper tries,
If you don't mind, I wont give you your rise,
[Ruy signs the paper.
That's it. Now write "Madrid, June seventeen,
Maria, of my heart the only queen,
Drop in to tea, to-night at half-past eight,
Just a few friends you know — we shan't be late."
Now sign it "Cæsar." [Ruy looks up amazed.
How the fellow stares!
(Explains). The name I go by in my love affairs!
[Ruy, satisfied, signs, and gives it to Sallust, who folds up both papers and puts them in his pocket.
There from this pocket neither note shall budge
Till I'm revenged — I owe the queen a grudge;
There'll be some use in this insidious letter,
Ven creditor is paid by this ven-detta!
[Trumpet heard without. The curtains at the back separate.
Here take this cloak — the Queen and all her train
Are passing through
[Ruy puts on a large cloak and a sombrero.
Enter Herald.
Herald. Maria, Queen of Spain!
The Queen appears in the portion of the stage which hitherto has been curtained off. Nobles advance and kiss her hand, in order to prolong her stay on the stage until Ruy's apostrophe is ended.
Ruy. Oh, beauteous Queen, how infinitely fairer
Than Jane or Emma, Mary, Anne, or Sairer!
So far excelling in her various graces
The various cooks at all my various places!
I'll write to her, though she's beyond my scope —
A letter she may send anon ve'll hope.
I wouldn't give her up for any sum;
No, no — I'll stick to that queen's head — by gum!
[Curtain falls as the Queen departs. During this speech Sallust has watched Ruy closely.
Sall. Ruy Blas, you love that fine young woman!
Ruy. Don't I?
Sall. You'll marry her, if she's agreeable?
Ruy. Wont I?
Sall. With such a Juno, you would like, proberbly,
To reign as Jupiter?
Ruy. In-jupiter-bly!
But can I, by the rules of orthodoxy?
For she is married!
Sall. Only wed by proxy.
The wedding's not confirmed by law — and still
She can dissolve it if she has the will.
I hate the Queen — and ere I beat retreat
I'll get you posted early to her suite,
And call you, say, Don Cæsar de Bazan,
My long lost cousin. Yes. you're like the man.
Ruy. But how will this your plan of vengeance meet?
Sall. No matter.
Ruy. (suddenly) Oh, I know — "revenge is suite!"
I'm but the engine of your wrath, it's plain.
Sall. An engine? yes: attached to the Queen's train!
Her person you'll approximate. I've stated
King Charles as yet has but a proxy mated!
DUET — SALLUST and RUY BLAS.
AIR — from Kermesse Scene in "Faust."
Sallust.
Come, come with me —
Soon you, shall see —
Off you shall carry her.
Ruy.
What, shall I marry her?
Sall.
Yes, yes, I vow,
Come with me now —
Ruy.
No, no; I couldn't do it — no, no no no.
Sall. (wheedling)
Do, do, do, do, do, do, do, do!
Ruy.
No. no, no, no, no, no, no, no!
Sall.
Do, do, do, do, do, do, do, do!
Ruy.
No. no, no, no, no, no, no, no!
Well, I don't much care-are!
I'll prepare-are
For ma chère-are
Tho' I dare-are,
For to swear-are,
You're aware-are,
That the dodge is very far from fair!
Both.
Well, I/he don't much care-are!
I'll/he'll prepare-are, etc.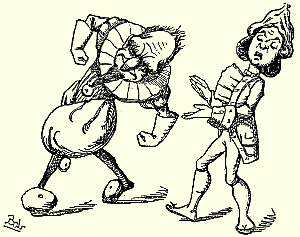 Comic Dance, preceded by a "Walk around," and exeunt, dancing off.

Page modified 22 August, 2011