Dialogue following No. 17
Enter Fairy Queen.
Queen. Oh, shame – shame upon you! Is this your fidelity to the laws you are bound to obey? Know ye not that it is death to marry a mortal?
Leila. Yes, but it's not death to wish to marry a mortal!
Fleta. If it were, you'd have to execute us all!
Queen. Oh, this is weakness! Subdue it!
Willis (Leo Sheffield) & Fairy Queen (Bertha Lewis) 1919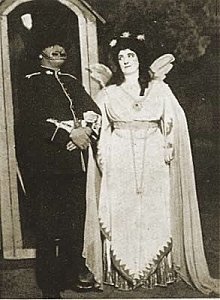 Celia. We know it's weakness, but the weakness is so strong!
Leila. We are not all as tough as you are!
Queen. Tough! Do you suppose that I am insensible to the effect of manly beauty? Look at that man! (Referring to Sentry.) A perfect picture! (To Sentry.) Who are you, sir?
Willis. (coming to "attention") Private Willis, B Company, 1st Grenadier Guards.
Queen. You're a very fine fellow, sir.
Willis. I am generally admired.
Queen. I can quite understand it. (To Fairies.) Now here is a man whose physical attributes are simply godlike. That man has a most extraordinary effect upon me. If I yielded to a natural impulse, I should fall down and worship that man. But I mortify this inclination; I wrestle with it, and it lies beneath my feet! That is how I treat my regard for that man!
Page Created 31 August, 2005