Dialogue following No. 22
Phyllis. But does your mother know you're – I mean, is she aware of our engagement?
Enter Iolanthe.
Phyllis (Rowena Ronald), Iolanthe (Marjorie Eyre) & Strephon (Leslie Rands)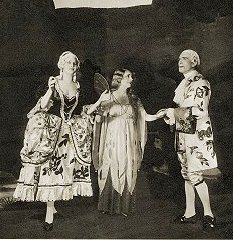 Iolanthe. She is; and thus she welcomes her daughter-in-law! (Kisses her.)
Phyllis. She kisses just like other people! But the Lord Chancellor?
Strephon. I forgot him! Mother, none can resist your fairy eloquence; you will go to him and plead for us?
Iolanthe. (much agitated). No, no; impossible!
Strephon. But our happiness – our very lives – depend upon our obtaining his consent!
Phyllis. Oh, madam, you cannot refuse to do this!
Iolanthe. You know not what you ask! The Lord Chancellor is – my husband!
Strephon and Phyllis. Your husband!
Phyllis (Helen Gilliland), Iolanthe (Nellie Briercliffe) & Strephon (Sydney Granville), 1919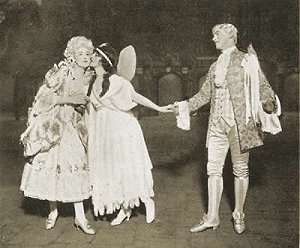 Iolanthe. My husband and your father! (Addressing Strephon, who is much moved.)
Phyllis. Then our course is plain; on his learning that Strephon is his son, all objection to our marriage will be at once removed!
Iolanthe. No; he must never know! He believes me to have died childless, and, dearly as I love him, I am bound, under penalty of death, not to undeceive him. But see – he comes! Quick – my veil!
Iolanthe veils herself. Strephon and Phyllis go off on tiptoe.
Enter Lord Chancellor.
Lord Chancellor. Victory! Victory! Success has crowned my efforts, and I may consider myself engaged to Phyllis! At first I wouldn't hear of it – it was out of the question. But I took heart. I pointed out to myself that I was no stranger to myself; that, in point of fact, I had been personally acquainted with myself for some years. This had its effect. I admitted that I had watched my professional advancement with considerable interest, and I handsomely added that I yielded to no one in admiration for my private and professional virtues. This was a great point gained. I then endeavoured to work upon my feelings. Conceive my joy when I distinctly perceived a tear glistening in my own eye! Eventually, after a severe struggle with myself, I reluctantly – most reluctantly – consented.
Page Created 31 August, 2005