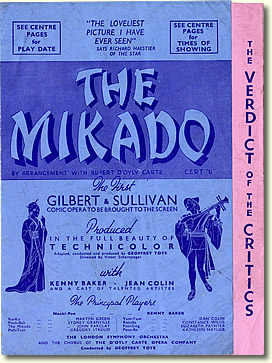 In the summer of 1938, The Mikado became the first Gilbert and Sullivan opera to be filmed.
Geoffrey Toye, who had been musical director of the D'Oyly Carte Opera Company for three London seasons in the early 1920s adapted the libretto, arranged the music and produced the film. Victor Shertzinger directed.
The cast included Martyn Green, Sydney Granville, Elizabeth Paynter (Elizabeth Nickell-Lean) and Kathleen Naylor from the D'Oyly Carte Company and Gregory Stroud who had been a member of the company during the 1926 London season.
Nanki-Poo and Yum-Yum were played by Kenny Baker (who had gained prominence as the featured singer on Jack Benny's radio show in America) and Jean Collin (whose previous career had been in musicals.)
The film received its first screening at the Leicester Square Theatre in London on January 12, 1939.
Filming The Mikado from The Daily Sketch, July 12, 1938.
Review from The Times, Jan. 12, 1939
Stills from the film published in The Illustrated Sporting and Dramatic News, Jan. 13, 1939.
Stills from the film published in The Daily Sketch, Jan. 13, 1939.
Stills from the film published in The Sphere, Jan. 14, 1939.
Stills from the film published in The Tatler, Jan. 11, 1939.
Martyn Green's account of the filming from his autobiography, Here's a How-de-do.
The 1938 film of The Mikado at the Gilbert and Sullivan discography.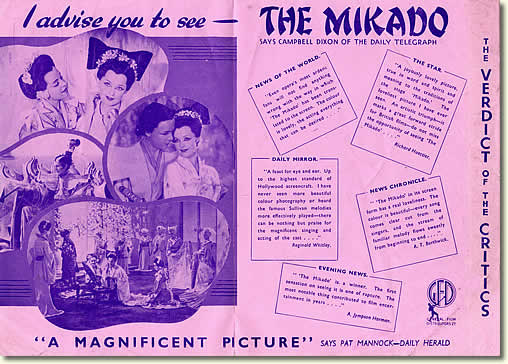 ---
---
Page modified 25 August, 2011 Copyright © 2010 The Gilbert and Sullivan Archive All Rights Reserved.