From THE ILLUSTRATED SPORTING AND
DRAMATIC NEWS — January 13, 1939

'The Mikado' Screened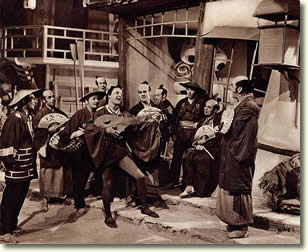 KENNY BAKER AS NANKI-POO.
"A wandering minstrel, I,
A thing of shreds and patches..."
is fitting that the first Gilbert and Sullivan opera ever to be filmed should be "The Mikado," that prine favourite of audiences all over the world and

dramatic societies wherever English is spoken. The Technicolor production, adapted, conducted, and produced by Geoffrey Toye, had a suitable send-off at the Leicester Square Theatre yesterday. Of the players, Kenny Baker is the American radio star, Jean Colin a graduate from musical comedy; Martyn Green is of the D'Oyly Carte Opera Company, as is the Pooh-Bah of Sydney Granville. John Barclay, though not a member of the D'Oyly Carte Company, has frequently played the Mikado for them in America.
JOHN BARCLAY AS
THE MIKADO.
"My object all sublime,
I shall achieve in time:
To let the puinishement fit the crime ..."

MARTYN GREEN AS
KO-KO.
"A dignified and potent officer whose functions are particularly vital "

JEAN COLIN AS
YUM-YUM.
"We are not shy, we are very wide awake,
The moon and I ..."
---
---
Page modified 25 August, 2011 Copyright © 2010 The Gilbert and Sullivan Archive All Rights Reserved.