LA VILLE DE TITIPOU
Tony Mayer introduces his French translation of The Mikado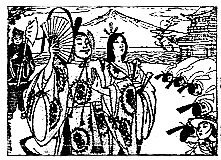 It seems hard to believe, but until last February when R.T.F. broadcast a French adaptation of The Mikado France had never heard any of Gilbert and Sullivan's works nor had the French much idea who the famous pair really were.
It was Henry Barraud, the then Head of Music of the French Radio, who had first thought the time had come to bridge the gap and who asked me to translate The Mikado. However when, rather rashly, I accepted the commission I had no idea what I had let myself in for.
To try to translate The Mikado is indeed attempting the impossible—those rhymes, those stresses, that impeccable rhythm, those one-syllable words in which English is so much richer than French. Fortunately we have silent e's and apostrophes which enable us to cut out or add syllables at will. For instance, in the 'Willow Song':
Sur un saul', près d'un lac,
Un'petite mésange...
Happily such tricks were not always necessary. 'The flowers that bloom in the Spring' could, for instance, be translated straightforwardly as 'Les fleurs que l'on voit au printemps.'
However, all through the work--and what an exhilarating challenge it was--it seemed to me that I was trying to solve some nightmarish puzzle to which there was no simple solution but only an endless series of successive approximations.