Dialogue following No. 10
C. H. Workman as Ko-Ko, 1907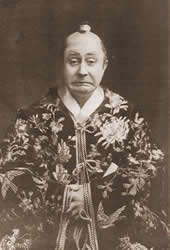 Ko-Ko. This is simply appalling! I, who allowed myself to be respited at the last moment, simply in order to benefit my native town, am now required to die within a month, and that by a man whom I have loaded with honours! Is this public gratitude? Is this — (Enter Nanki-Poo, with a rope in his hands.) Go away, sir! How dare you? Am I never to be permitted to soliloquize?
Nanki-Poo. Oh, go on — don't mind me.
Ko-Ko. What are you going to do with that rope?
Nanki-Poo. I am about to terminate an unendurabIe existence.
Ko-Ko. Terminate your existence? Oh, nonsense! What for?
Nanki-Poo. Because you are going to marry the girl I adore.
Ko-Ko. Nonsense, sir. I won't permit it. I am a humane man, and if you attempt anything of the kind I shall order your instant arrest. Come, sir, desist at once or I summon my guard.
Nanki-Poo. That's absurd. If you attempt to raise an alarm, I instantly perform the Happy Despatch with this dagger.
Ko-Ko. No, no, don't do that. This is horrible! (suddenly)Why, you cold-blooded scoundrel, are you aware that, in taking your life, you are committing a crime which — which — which is— Oh! (Struck by an idea.) Substitute!
Nanki-Poo. What's the matter?
Ko-Ko. Is it absolutely certain that you are resolved to die?
Nanki-Poo. Absolutely!
Ko-Ko. Will nothing shake your resolution?
Nanki-Poo. Nothing.
Ko-Ko. Threats, entreaties, prayers — all useless?
Nanki-Poo. All! My mind is made up.
Ko-Ko. Then, if you really mean what you say, and if you are absolutely resolved to die, and if nothing whatever will shake your determination — don't spoil yourself by committing suicide, but be beheaded handsomely at the hands of the Public Executioner!
Nanki-Poo. I don't see how that would benefit me.
Ko-Ko. You don't? Observe: you'll have a month to live, and you'll live like a fighting-cock at my expense. When the day comes there'll be a grand public ceremonial — you'll be the central figure — no one will attempt to deprive you of that distinction. There'll be a procession — bands — dead march — bells tolling — all the girls in tears — Yum-Yum distracted — then, when it's all over, general rejoicings, and a display of fireworks in the evening. You won't see them, but they'll be there all the same.
Nanki-Poo. Do you think Yum-Yum would really be distracted at my death?
Ko-Ko. I am convinced of it. Bless you, she's the most tender-hearted little creature alive.
Nanki-Poo. I should be sorry to cause her pain. Perhaps, after all, if I were to withdraw from Japan, and travel in Europe for a couple of years, I might contrive to forget her.
Ko-Ko. Oh, I don't think you could forget Yum-Yum so easily; and, after all, what is more miserable than a love-blighted life?
Nanki-Poo. True.
Ko-Ko. Life without Yum-Yum — why, it seems absurd!
Nanki-Poo. And yet there are a good many people in the world who have to endure it.
Ko-Ko. Poor devils, yes! You are quite right not to be of their number.
Nanki-Poo. (suddenly) I won't be of their number!
Ko-Ko. Noble fellow!
Nanki-Poo. I'll tell you how we'll manage it. Let me marry Yum-Yum to-morrow, and in a month you may behead me.
Ko-Ko. No, no. I draw the line at Yum-Yum.
Nanki-Poo. Very good. If you can draw the line, so can I. (Preparing rope.)
Ko-Ko. Stop, stop — listen one moment — be reasonable. How can I consent to your marrying Yum-Yum if I'm going to marry her myself?
Nanki-Poo. My good friend, she'll be a widow in a month, and you can marry her then.
Ko-Ko. That's true, of course. I quite see that. But, dear me! My position during the next month will be most unpleasant--most unpleasant.
Nanki-Poo. Not half so unpleasant as my position at the end of it.
Ko-Ko. But — dear me! — well — I agree — after all, it's only putting off my wedding for a month. But you won't prejudice her against me, will you? You see, I've educated her to be my wife; s
he's been taught to regard me as a wise and good man. Now I shouldn't like her views on that point disturbed.
Nanki-Poo. Trust me, she shall never learn the truth from me.