Dialogue following No. 6
Enter Pooh-Bah, Ko-Ko, and Pitti-Sing. All kneel. Pooh-Bah hands a paper to Ko-Ko.
Donald Adams as The Mikado, 1966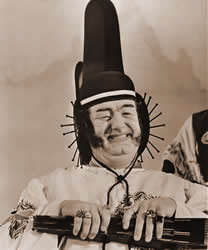 Ko-Ko. I am honoured in being permitted to welcome your Majesty. I guess the object of your Majesty's visit — your wishes have been attended to. The execution has taken place.
Mikado. Oh, you've had an execution, have you?
Ko-Ko. Yes. The Coroner has just handed me his certificate.
Pooh-Bah. I am the Coroner. (Ko-Ko hands certificate to Mikado.)
Mikado. And this is the certificate of his death. (reads) "At Titipu, in the presence of the Lord Chancellor, Lord Chief
Justice, Attorney-General, Secretary of State for the Home Department, Lord Mayor, and Groom of the Second Floor Front —"
Pooh-Bah. They were all present, your Majesty. I counted them myself.
Mikado. Very good house. I wish I'd been in time for the performance.
Ko-Ko. A tough fellow he was, too — a man of gigantic strength. His struggles were terrific. It was a remarkable scene.
Mikado. Describe it.