You are here: Archive Home > Patience > Web Opera > Act 1
Dialogue following No. 1
---
Angela. There is a strange magic in this love of ours! Rivals as we all are in the affections of our Reginald, the very hopelessness of our love is a bond that binds us to one another!
Saphir. Jealousy is merged in misery. While he, the very cynosure of our eyes and hearts, remains icy insensible -- what have we to strive for?
Ella. The love of maidens is, to him, as interesting as the taxes!
Lady Jane (Bertha Lewis) (1929)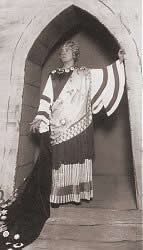 Saphir. Would that it were! He pays his taxes.

Angela. And cherishes the receipts!

Enter Lady Jane.

Saphir. Happy receipts! (All sigh heavily)

Jane. (suddenly) Fools!

Angela. I beg your pardon?

Jane. Fools and blind! The man loves - wildly loves!

Angela. But whom? None of us!

Jane.

No, none of us. His weird fancy has lighted, for the once, on Patience, the village milkmaid!



Lady Jane (Ella Halman) in the foreground (c.1950)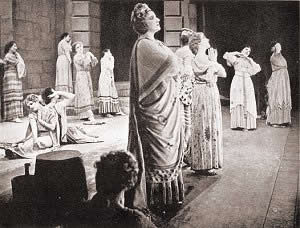 Saphir. On Patience? Oh, it cannot be!
Jane. Bah! But yesterday I caught him in her dairy, eating fresh butter with a tablespoon. Today he is not well!
Saphir. But Patience boasts that she has never loved - that love is, to her, a sealed book! Oh, he cannot be serious!
Jane. 'Tis but a fleeting fancy - `twill quickly wear away. (aside) Oh, Reginald, if you but knew what a wealth of golden love is waiting for you, stored up in this rugged old bosom of mine, the milkmaid's triumph would be short indeed!

Page Created 10 May, 2005