Gilbert and Sullivan Archive
PRINCESS IDA DISCUSSION
Music and Songs (continued)
5.4 - Come, Mighty Must!

5.4.1 - In Defense of Come, Mighty Must
---
5.4 - Come, Mighty Must!
Nick Sales:
*** THE FOLLOWING IS "MADE-UP" *** (BY ME ) ***
I have just discovered a "lost" portion of Sir Arthur Sullivan's diary from around the time when he was composing the music for Princess Ida. It gives some credence to the claim made by Scientists that there is a direct line between food, drink, happiness and sexual activity and the quality of work produced. Here is an extract:
MONDAY. Went to club PM. Played baccarat. Won £20. Dined on pate fois gras, followed by poached salmon, washed down with a bottle of '74 Claret. Wonderful meal. Went home. Composed music to opening number, quintet, duet for Mellissa and Blanche, and the other two ladies' choruses. Went to bed.
TUESDAY. Went to Epsom Races with the Prince. Won £240. Stopped off to see Mrs. Ronalds on the way back. Dined at club. Excellent beefsteak. Went home in high spirits. Composed music for the two men's trios, the Princess's song, Psyche's song and Cyril's Kissing Song. Went to bed.
WEDNESDAY. What a day! Royalty cheque for Iolanthe came with the morning post. Largest yet! My stockbroker informed me of buoyancy of markets, my investments up by 30%! Mrs. Ronalds came to visit after luncheon. Went to casino. Won over £500. Was told of my impending knighthood. Mrs. Ronalds tentatively accepted my proposal of marriage. Dined at the Garrick. Lobster thermidor, accompanied by a '64 Chablis. Best meal I ever tasted. Mrs. Ronalds came home for a short while. After she went, composed Act II finale and Princess's Solo. Went to bed exhausted but very happy.
THURSDAY. Quiet day. Dined in the evening with Carte, at the "Star of Bombay". Had Prawn Vindaloo, 12 poppadums, 4 onion bahjees, egg pilau rice and three garlic naan bread, washed down with 16 pints of warm lager and 7 whiskeys. Managed to stagger home, helped upstairs by Louis and Clothilde. They helped me into my study, where I composed "Come, mighty must" before passing out.
FRIDAY Worst ever hangover. Can't shake the feeling that I did something terrible last night.
Robert Jones: I'm still laughing and having a great deal of trouble typing. Bravo!
---
5.4.1 - In Defence of Come, Mighty Must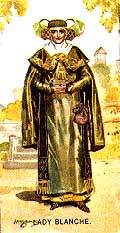 Ed Glazier: OK, I guess I am the one to come to the defence of "Come, Mighty Must". I have played Gama in two productions of Ida by the Stanford Savoyards and in both cases, CMM was played as a pretty serious song. Though well sung, it was not particularly well-received by the audiences. I had tried in both cases to influence the directors and the actresses to treat this as a comic song, as was done at the University of Michigan Gilbert and Sullivan Society in its 1973 production, staged by Susan Morris, a longtime UMGASS singer and director (she had played Ida, among other roles). (I was in the chorus). Blanche was performed by Nancy Hall Gilmartin, who had played Ida and Psyche in previous UMGASS Idas.
It is unfortunate that videocameras were not easily available in those days because the staging of this song was hilarious and a true highlight of the production (starring, as Ida, Ashley Putnam, now an international opera star). I do have an audio recording of the production which recalls some of this to mind. Blanche carried with her a large book, which as I recall, she had used earlier in the scene as her book of punishments. I now quote from a brief description of the staging in a review by Phyllis Karr in the GASBAG, v. IV, no. 10, May 21, 1973.
"It seemed the girls had a choice about attending lectures in the Hall of Arts, and all down to Melissa and Sacharissa chose to follow the Princess instead of hearing Lady Blanche. Pity. They missed a good song. Nancy [Gilmartin] gave the lie to those who call "Come, mighty Must!" a bad number. Not only that, but her 'business' was without flaw, flipping rapidly through several pages on 'May, Might, Could, Would, Should!' and catching her fingers in the book as she closed it in disgust [audible on the recording], then at last flinging it to the ground and putting her foot upon it like the hunter striding on the lion's head."
As I recall, she also managed to kick the book offstage after putting her foot on it.
So perhaps my defence of CMM is not an argument for the merit of the song itself, but simply a description of a case in which, not only was it made to work, but it became a highlight of the show.
Philip Sternenberg: Nick's diary was hysterical. (BTW, Nick, what did he say about Thespis? Maybe he hid the MS under The Carpet in 1890.) Nevertheless, like Ed, I'd like to put in a few good words of my own for CMM. I'm not sure Sullivan could have done significantly better with the lyrics given to him. To me the music has a majestic air about it that suggests academia nicely. If it were in 4/4 instead of 3/4, I could imagine it as an Elgar-like background to a graduation processional. Notice that Sullivan very briefly stole from himself in the four orchestral notes (cello or bass, I'm not sure which) preceding "Yet humble second" and again preceding the first "Ye have deceived," which can be heard in the same key (and probably the same instrument) in the Sorcerer minuet that accompanies Daly's homily to Alexis. Sullivan also reused the two-chord opening of CMM, transposed and extended, in "Were you not to Ko-Ko plighted."
As for the lyrics, their enjoyment depends on the listener's knowledge of (maybe even devotion to) grammar. So, yes, they may be a bit arcane, but that never stopped Gilbert before. Maybe the problem lies in trying to make a song out of them, when their humor might have been expressed better in dialogue. Still, I think they're worth hearing.
Whatever, although CMM may not be G&S at their best, I don't classify it as an unqualified disaster. If it's cut, I feel it should be because the Directors are in a cutting mood, and not because DCOC established a precedent. G&S never said it should be cut (as far as I know), and in that respect it deserves the same courtesy as any other number. Furthermore, without it, Blanche's singing is reduced to her duet with Melissa and four lines in "Merrily ring the luncheon bell!" Of course, I know of one amateur production in which this was the reason why CMM was cut. Blanche's singing left much to be desired, but it was a good speaking part for her.
Michael Walters: I have seen so many amateur productions of Ida that I've lost count, but I do not ever recall seeing a production which did not include "Come Mighty Must". A correspondent of mine, Richard Moore, once gave the opinion that he thought it the best song in the opera. How's that for controversy??!!
---
John Shea: One more oar to put in about Ida: I used to think "Merrily Rings the Luncheon Bell" a rather clunky bore, until I sat in on a rehearsal for our Savoy-aires' performance 15 years ago, and I finally heard what Sullivan was doing. This is a group of girls on an outing, and the music has an unmistakable sound of breaking free of the classroom, rejoicing in the great outdoors, but treating the experience with pedantic schoolgirl earnestness ("feast we body and mind as well"). I think it is quite perfect!
Harriet Meyer: Tennyson has "But hark the bell/For dinner, let us go!" and I suppose Gilbert changed it to "luncheon" to be funny. The song has always reminded me (in the wrong order chronologically) of Virginia Woolf's description of a meal at a university where she has wandered the grounds in her feminist essay "A Room of One's Own."
---
---
Page created 12 May 1998