You are here: Archive Home > Ruddigore > Web Opera > Act 1
Dialogue following No. 2
---
(Enter Rose Maybud from cottage, with small basket on her arm.)
Muriel Dickson as Rose Maybud (1932-3)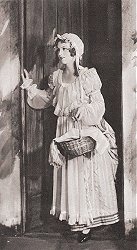 Hannah. Whither away, dear Rose? On some errand of charity, as is thy wont?
Rose. A few gifts, dear aunt, for deserving villagers. Lo, here is some peppermint rock for old gaffer Gadderby, a set of false teeth for pretty little Ruth Rowbottom, and a pound of snuff for the poor orphan girl on the hill.
Hannah. Ah, Rose, pity that so much goodness should not help to make some gallant youth happy for life! Rose, why dost thou harden that little heart of thine? Is there none hereaway whom thou couldst love?
Rose. And if there were such an one, verily it would ill become me to tell him so.
Hannah. Nay, dear one, where true love is, there is little need of prim formality.
Rose. Hush, dear aunt, for thy words pain me sorely. Hung in a plated dish-cover to the knocker of the workhouse door, with naught that I could call mine own, save a change of baby-linen and a book of etiquette, little wonder if I have always regarded that work as a voice from a parent's tomb. This hallowed volume (producing a book of etiquette), composed, if I may believe the title-page, by no less an authority than the wife of a Lord Mayor, has been, through life, my guide and monitor. By its solemn precepts I have learnt to test the moral worth of all who approach me. The man who bites his bread, or eats peas with a knife, I look upon as a lost creature, and he who has not acquired the proper way of entering and leaving a room is the object of my pitying horror. There are those in this village who bite their nails, dear aunt, and nearly all are wont to use their pocket combs in public places. In truth I could pursue this painful theme much further, but behold, I have said enough.
Hannah. But is there not one among them who is faultless, in thine eyes? For example — young Robin. He combines the manners of a Marquis with the morals of a Methodist. Couldst thou not love him?
Rose. And even if I could, how should I confess it unto him? For lo, he is shy, and sayeth naught!

Page Created 26 August, 2011