You are here: Archive Home > Arthur Sullivan > Major Works > The Emerald Isle > Web Opera > Dialogue following No. 6
Dialogue following No. 6
---
Blanche Baston Murray as Susan and Walter Passmore as Professor Bunn.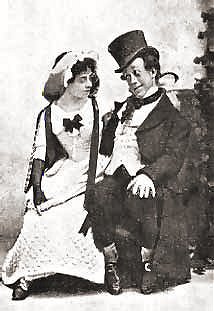 Bunn.
So you are left in charge of me? Hadn't you better hold me tight, Susan?
(Business. They sit.)
Susan.
It seems to me there's mysteries afloat. Who is this Mr. O'Brian?
Bunn.
A very dangerous young man.
Susan.
I love dangerous young men. Why have I to keep my eye on you?
Bunn.
Why? Because I'm more dangerous than he is. He's jealous. You think I'm stout. I'm not. It's gunpowder.
Susan.
Lawks! Why, you might go off!
Bunn.
(aside)
So I might - if I can get the chance. Susan, you must take your eye off me for a few minutes. I'm going to change my costume.
Susan.
What for?
Bunn.
For the costume of the lean and slippered pantaloon, in my impersonations of the Seven Ages of Man. You do love dangerous men?
Susan.
I've always had a leaning that way. That's why I lean to soldiers.
Bunn.
Ah! I set my face against soldiers.
Susan.
So have I, sometimes. But detectives is my craze. Here comes the Lord Lieutenant! You're not the Irish League?
Bunn.
No. Scotland Yard!
Susan.
A detective! That breaks my dream.
(Exit.)
Bunn enters Murphy's cottage, carrying costume, which he takes from carpet-bag.
Archive Home | Arthur Sullivan | Major Works | The Emerald Isle
Page Modified 8 October, 2004