The Gilbert and Sullivan Archive > Arthur Sullivan > Hymns
(6.6.8.4.)
Adapted from an older melody and published in "Church Hymns with Tunes", S.P.C.K., 1874.

Last verse thus: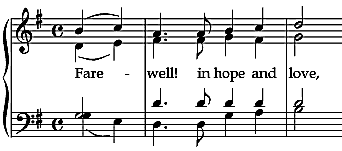 1
With the sweet word of peace
2
With the calm word of prayer
We bid our brethren go;
We earnestly commend
Peace as a river to increase,
Our brethren to Thy watchful care,
And ceaseless flow.
Eternal Friend!
3
With the dear word of love
4
With the strong word of faith
We give our brief farewell;
We stay ourselves on Thee;
Our love below, and Thine above
That Thou, O Lord, in life and death
With them shall dwell.
Their Help shalt be.
5
Then the bright word of hope
6
Farewell! in hope, and love,
Shall on our parting gleam,

In faith, and peace, and prayer;
And tell of joys beyond the scope

Till He whose home is ours above
Of earthborn dream.
Unite us there! Amen.
George Watson, 1816 - 98.
The Gilbert and Sullivan Archive | Arthur Sullivan | Hymns
Date modified 25 November, 2007 Copyright © 2007 The Gilbert and Sullivan Archive All Rights Reserved