You are here:
>
>
>
Guinevere!

Words by Lionel H. Lewin.
Composed expressly for and dedicated to Mlle.. Titiens.
Published by Cramer & Co., 1872.
---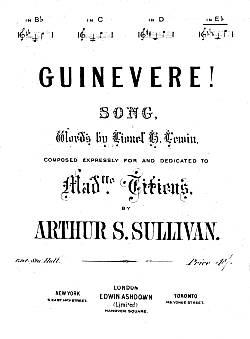 In the 1860s and early 1870s, Sullivan was a frequent visitor to Sydenham in south London. Not only was it the location of the Crystal Palace, an important concert venue amongst other things, where the secretary (administrator) was George Grove, an early friend and champion of Sullivan, but it was also where the Scott Russells lived, with whose daughter, Rachel, Sullivan had a "romantic liaison".

Lionel Lewin was a member of the "Sydenham Set". He was a witty and sociable young man who improvised verse easily and he wrote several lyrics for Sullivan to set. He was only 22 when the first Sullivan-Lewin songs were published in 1870. Soon after, Sullivan became interested in writing a grand opera, encouraged by Rachel Scott Russell. He began planning an opera on Guinevere with Lewin who wrote out a scenario in 1872. At the same time Lewin wrote this song. No more progress was made with the opera and Lewin died in 1874.

But Sullivan never quite gave up the idea of composing a grand opera on the theme of Arthur and Guinevere. In 1895 he was commissioned to write the incidental music to Comyns Carr's play King Arthur. Sullivan asked Carr to produce an opera libretto based on his play and anticipated using some of the incidental music in the opera. But again, the project came to nothing.
---

---
Therese Titiens as Lucrezia Borgia

There was deep, calm shade in the cloister,
Though the burning sun was high -
But no peace there, to her despair
But ever a mournful cry, a mournful cry,
"Ah! me! my Love, that cloudless love,
Not less sweet for its bitter stain,
It is fair that a love so pleasant prove,
Only to end in pain?"

There was hollow roll of thunder
And rifts in many a cloud -
And still to her heart as she walk'd apart,
She murmur'd half aloud, half aloud,
"Ah! me! that hour, that dark wild hour,
When hand held hand in a last long strain,
And my true knight went forth from my sight -
Never to come again."

There was rain with ceaseless plashing,
From a sullen, low'ring sky,
And who can know what an utter woe,
Wrung out her passionate cry -
"Ah! me! these tears, these blinding tears,
Useless now tho' they fall like rain,
From a heart that breaks thro' the languid years
With a love that is all in vain!"
There was snow in the moonlight gleaming,
Pure white in the cloister gray -
And no sound there but a whisper'd pray'r,
As her spirit passed away,
Her spirit passed a way.
Ah! me! one dirge, one sweet low dirge
White-robed nuns in the moonlit pane,
For her eyes will wake and her heart will ache
Never on earth again,
Never on earth again,
Never on earth again.
Archive Home | Arthur Sullivan | Songs & Ballads
Page Created 2 May 2004