Edward, Prince of Wales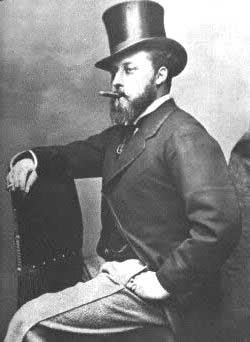 The recovery of Edward, Prince of Wales, from typhoid fever was cause for celebration, and 1 May 1872 was designated Thanksgiving Day to be marked by a special concert at the Crystal Palace organised by the Prince's brother, The Duke of Edinburgh. Sullivan composed this "Te Deum" for the occasion.
Appropriately enough for the occasion, Sullivan appended the verse "O Lord, save the Queen: and mercifully hear us when we call upon thee" to the text of the Te Deum. But to allow for performance in other circumstances, the vocal score gives a repeat of the last verse of the Te Deum proper as an alternative.
According to Arthur Lawrence, Sullivan's biographer:
Upwards of 30,000 people were present, among them the Princess Louise, the Duke of Edinburgh, Prince and Princess of Teck, and the Duke of Cambridge. The performance was in the hands of the London contingent of the Handel Festival Choir of over 2,000 performers being conducted by Mr. Manns, Mdlle. Titiens taking the solos.
Sullivan was uproariously cheered at the end of the performance.
The Queen did not attend the performance, but the Duke of Edinburgh, whom Sullivan numbered among his friends, arranged for the work to be dedicated to her. He wrote to Sullivan:
I have obtained permission for you to dedicate your Te Deum to Her Majesty, but you had better write an application for permission to Sir Thomas Biddulph & bring it to me & I will take care you get the proper answer.
The proper answer from Sir Thomas arrived a few days later on 16 April 1872:
I am to say that Her Majesty rarely accords this privilege to any one, and is only induced to do so on the occasion in question, in consequence of the case, and the Performance taking place under the immediate Patronage of the Royal Family.
The vocal score was published by Novello the same year and the full score was published in 1887. The latter testified to the enormous volume of sound Sullivan had in mind, calling for chorus, 1st and 2nd violins, violas, cellos, contrabasses, organ, flutes, oboe, clarinet, bassoon, four horns, four trombones, ophicleide and timpani, all augmented by a military band. The use of the band in addition to the orchestra indicates a debt to Julien's 'monster' concerts of Sullivan's youth rather than, as might be supposed, to Berlioz's
Grand messe des morts
which was not heard in Britain until 1883 or Verdi's
Requiem
which received its first performance two years after Sullivan's work.
Page Modified 8 January 2010. Copyright © 2004-10 The Gilberet and Sullivan Archive All Rights Reserved.