You are here:
>
Web Opera
Song No. 1
THE BRITISH PUBLIC

MIDI File 23K, 2 min. 40 seconds.
---



SCENE: The London Zoological Gardens. The bear pit. The Refreshment Stall

.

[Lyrics start 41 seconds into the MIDI file]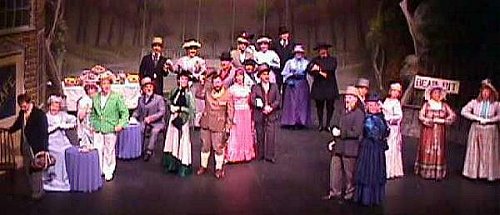 The Pennine Players
Chorus:
(Walking about -- Looking into the Bear Pit -- Sitting at the Refreshment Stalls, etc.)
The British Public here you see,
The much abused and feared B.P.:
In all our native majesty--
We're here today.

We have opinions of our own,
And, if they're wrong, and so it's shown,
We never let the thing alone--
But peg away.
We've come to see the beasts today,
And if to enter we must pay,
It costs no more to go away--
So let us stay.
And when the lion's cage we seek,
No fear shall blanch our British cheek,
And, if the noble beast could speak--
What would he say?
He'd say -- in well-known English staves--
He'd say, "Britannia rules the waves,
And Britons never never will be slaves"--
Hurray! Hurray!
(The crowd separate, and Aesculapius Carboy is discovered on a chair with a rope round his neck, attached to the verandah of the Refreshment Stall.)

Off Monroe Players
(2001)

Chorus:

Forbear! Rash one, we say, forbear!

Carboy:

Will somebody just kick the chair,
And let me dangle in the air?
I'm tired of life!

Chorus:

By all means hang yourself up high,
If that's the way you choose to die,
But let us know the reason why--
(Pause) Is it your wife?

Carboy:
---



Page modified 17 June, 2006