Gilbert and Sullivan Archive
UTOPIA, LIMITED
GEMS OF THE NEW OPERA
from the
STAFFORDSHIRE SENTINEL
9 October 1893, page 4
The new opera by Mr. W. S. Gilbert and Sir Arthur Sullivan, "Utopia," was produced on Saturday night, at the Savoy with immense success, The story is sufficiently indicated by its title. It turns on the attempt of Princess Zara of Utopia, who has studied five years at Gorton, to introduce English customs in her father's dominion, The following are some of the gems of the opera: —
CHORUS OF THE LIFE GUARDS
On the Princess's arrival there ensues one of the musically humorous gems of the opera: the Princess softly and slowly sings: —
Five years have flown since I took wing —
Time flies, and his footsteps ne'er retards —
I'm the eldest daughter of your king.
At which point the troopers, with military sharpness and precision, break in with the exclamation: —
And we are her escorts — First Life Guards!
On the royal yacht,
When the waves were white,
In a helmet hot
And a tunic tight,
And our big white boots,
We defied the storm!
For we're not recruits,
And his uniform
A well-drilled trooper ne'er discards —
And we are her escort — First Life Guards!
The second verse is equally worth quotation: —
Zara:

These gentlemen I present to you,
The pride and beast of their barrack-yards,
They've taken O such care of me!

Troopers:

For we are her escort — First Life Guards!
When the tempest rose,
And the ship went so —
Do you suppose?
We were ill? No, no!
Though a qualmish lot
In a tunic tight
And a helmet hot,
And a breastplate bright
(Which a well-drilled trooper ne'er discards)
We stood as her escort — First Life Guards!
The encore for his was overwhelming and the refrain as one that will speedily be whistled in the streets.
A CABINET COUNCIL AFTER THE ENGLISH METHOD
The king, dressed as an English Field Marshall (though he should surely not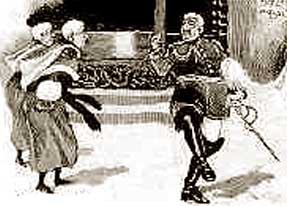 be wearing the star and the broad blue riband of the Order of the Garter) summons the Flowers of Progress to assist him to hold a Cabinet Council in the English fashion. They seat themselves across the stage like Christy Minstrels and to the king's anxious question, "This is in accordance with the practice at the Court of St. James?" The Lord Chamberlain demurely replies, "Well, it is in accordance with the practice of the Court of St James's Hall." The Cabinet Ministers suddenly produce musical instruments and, to a rattling solo for the King, they give one of the most perfect burlesques of the Christy Minstrel Chorus that has ever been written. The audience could scarcely listen for laughter, again and again merriment almost drowned the music, and, a double encore being given with the utmost enthusiasm, the last verse was twice repeated: —
King:

Our Peerage we've remodeled on an intellectual basis,
Which certainly is rough on our hereditary races —

Chorus:

We are going to remodel it in England.

King:

The Brewers and the Cotton Lords no longer seek admission,
And Literary merit meets with proper recognition —

Chorus:

As literary merit does in England!

King:

Who knows but what we may count among our intellectual chickens,
Like you, an Earl of Thackeray and p'raps a Duke of Dickens —
Lord Fildes and Viscount Millais (when they come) we'll welcome sweetly —

Chorus:

In short, this happy country has been Anglicised completely!
It really is surprising
What a thorough Anglicising
We have brought about — Utopia's quite another land,
In her enterprising movements,
She is England with improvements
Which we dutifully offer to out mother land!
THE CHORUS OF THE ENGLISH GIRLS
One of the best songs is in honour of the English girl, commencing: —
A wonderful joy our eyes to bless
In her magnificent comeliness,
Is an English girl of eleven stone two,
And five feet ten in her dancing shoe.
This song also contains one of Mr. Gilbert's neatest jokes.
At cricket her kiss will lose or win,
She and her maids on grass or clover,
Eleven maids out, eleven maids in,
And perhaps an occasional "maiden" over.
THE FLOWERS OF PROGRESS
The interest increases by the introduction of the several representative types of Englishman who have come out to Utopia to instruct the unsophisticated inhabitants in the principles of English Life. Those Flowers of Progress consist, besides Captain Fitzbattleaxe, of Sir Bailey Barre, QC. MP (Mr. Enos Blackmore), who is presented as,
An eminent logician who can make it clear to you
That black is white — when looked at from the proper point of view
A marvelous philologist who'll undertake to show
That 'Yes' is but another and neater form of 'No.'
Then came Lord Dramaleigh:—
A Lord High Chamberlain
Of purity the gauge —
He'll cleanse our court from moral stain
And purify our stage.
And Mr. Blushington of the County Council (Mr. Herbert Rutland): —
Great Britain's latest toy —
On anything you like to name
His talents he'll employ,
All streets and squares he'll purify
Within your city walls,
And keep meanwhile a modest eye,
On wicked music halls.
He is followed by Captain Sir Edward Corcoran, K.C.B (Mr. Lawrence Gridley) who brings down the house by introducing the following reminiscent interlude: —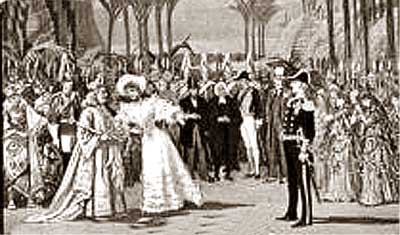 Though we're no longer hearts of oak,
Yet we can steam and we can stoke,
And thanks to coal, and thanks to coke,
We never run a ship ashore!"

All:

What never?

Captain:

No, never!

All:

What, never?

Captain:

Hardly ever!

All:

Hardly ever run a ship ashore?
Then give three cheers, and three cheers more,
For the tar who never runs his ship ashore;
Then give three cheers, and three cheers more,
For he never runs his ship ashore.
---
This article was submitted to the Gilbert and Sullivan Archive by Louis Silverstein.
---
---
Page created 19 June 1999