THE D'OYLY CARTE OPERA COMPANY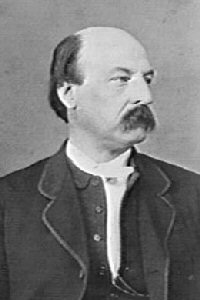 G. B. Allen
G. B. Allen (m.d., 1877)
[Born London 21 Apr 1822, died Brisbane, Queensland, Australia 30 Nov 1897]
George Benjamin Allen's career with the D'Oyly Carte organization was brief indeed, serving as musical director for the original production of The Sorcerer at the Opera Comique from its opening 17 November 1877 until the next month when he was succeeded by Alfred Cellier. He was closely associated with Alice May, the original Aline in that production. She left the cast in January 1878.
Allen was a chorister, organist, and conductor in England, Ireland, and Australia. He managed a comic opera company, performing numerous operas in New Zealand, Australia, and India (1874-76), before returning to England. In 1874 his opera bill in Wellington, New Zealand included that country's premiere of Burnand & Sullivan's Cox and Box. (Allen's Royal English Opera Company featured Alice May as its prima donna. He and Miss May were widely reported to be married but that was not strictly the case.)
Allen composed at least four stage works, three cantatas, and many songs. His stage works included Castle Grim (an opera with words by Robert Reese, produced at the Royalty Theatre, London, 2 September to 21 October 1865), The Wicklow Rose (an Irish comic opera by Reese, produced in Manchester, 3 May 1882), Keep Your Places (a operetta by Reese, St. George's Hall, 15 February 1886), and The Viking (an unperformed five-act opera).
For further details on Allen's life and career, see Adrienne Simpson's biography of Alice May, "Allice May: Gilbert & Sullivan's First Prima Donna" (Routledge, New York and London, 2003).
---
A Index | "Who Was Who" Homepage
---