THE D'OYLY CARTE OPERA COMPANY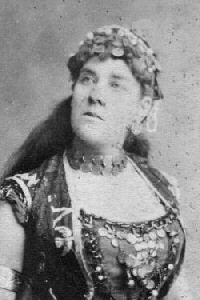 Bessie Armytage as Ruth in The Pirates of Penzance
Bessie Armytage (1879-83, 1885)
[Died 22 May 1918]
Bessie Armytage played the principal contralto roles for various D'Oyly Carte touring companies beginning in December 15, 1879, as Little Buttercup in H.M.S. Pinafore with Mr. D'Oyly Carte's "2nd London" Company. At the conclusion of its run (February 21, 1880), she transferred to the "D" Company, where she played Mrs. Partlett in The Sorcerer.
In December 1880, she filled in for Madge Stavart as Buttercup, and then transferred to the "A" Company, which was touring in Ireland, to replace Fanny Harrison in that role. Miss Armytage began the 1881 season playing Buttercup with the "A" Company. In March, the Company was renamed "B" Company and Madge Stavart joined, assuming Buttercup and Lady Sangazure in The Sorcerer (which was added to the repertory), and Bessie Armitage took up Mrs. Partlett once more. When Miss Stavart left in August, Bessie Armytage assumed Buttercup again and moved up to Lady Sangazure in The Sorcerer.
In November, "B" Company added a new opera to its repertory and Miss Armytage was Ruth in The Pirates of Penzance. She played Ruth and Buttercup with the "B" Company for the entire 1882 season, with the exception of a brief period in September when she and Fanny Harrison (Ruth with Mr. D'Oyly Carte's No. 1 Pirates Company) switched Companies. Bessie began the 1883 season with the Pinafore and Pirates Company singing Buttercup and Ruth, but left in June, once again replaced by Madge Stavart.
She did not appear with the D'Oyly Carte organization again until September 28, 1885, when Mr. D'Oyly Carte's "C" (Repertory) Company was reformed. She appeared that night as Lady Jane in Patience. However, Alice Aynsley Cook joined the Company in October and assumed the principal contralto roles. Miss Armytage stayed long enough to appear again as Mrs. Partlett in The Sorcerer but by the end of October was no longer in the cast.
---
A Index | "Who Was Who" Homepage
---