THE D'OYLY CARTE OPERA COMPANY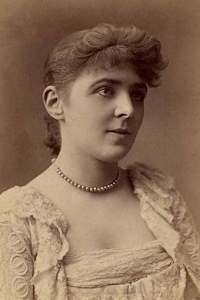 Grace Arnold.
Grace Arnold (1883-84)
Grace Arnold made her theatrical debut on April 30, 1883, as Galatea in W. S. Gilbert's mythological comedy Pygmalion and Galatea, in a benefit matinee at London's Gaiety Theatre. She had previously performed as an amateur for several years in such works as Gilbert's Dan'l Druce, Blacksmith (as Dorothy, with the Romany Club) and Engaged (as Belinda Treherne, with the Philothespians).
Shortly after her performance as Galatea, she joined the Savoy chorus during the original production of Iolanthe, and assumed the role of Fleta from October 1883 until the opera closed January 1, 1884.
On January 18, 1884, a revival of Gilbert's fairy comedy The Palace of Truth opened at the Prince's Theatre, London, with a Miss Arnold, possibly Grace, in the role of Palmis.
On February 10, 1886, she appeared at the Opera Comique in a matinee benefit performance of Sappho, a one-act "lyrical romance," in the role of Daphne. Later that year she toured with Miss [May] Fortescue's London Company, appearing in several roles including Agatha in Gilbert's Gretchen.
---
A Index | "Who Was Who" Homepage
---