THE D'OYLY CARTE OPERA COMPANY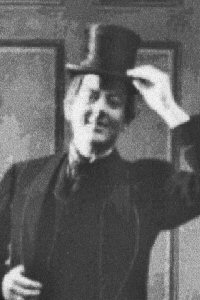 Nigel Atkin in Trial by Jury.
Nigel Atkin (1959-62)
[Born Elham, Kent 18 Feb 1938]
Baritone Nigel Atkin was a member of the D'Oyly Carte Opera Company chorus from November 1959 until February 1962. A singer since boyhood, he had earlier solo engagements on national radio programs, including "In Town Tonight."
He was appointed Lay Clerk of Canterbury Cathedral Choir, where he served as Decani Baritone from February 1962 until February 1964. He then returned to amateur singing as a soloist and chorister, and is a certified teacher of singing at Victoria College of Music.
Mr. Atkin is currently a Fellow of the Victoria College of Music, London, the National College of Music and Arts, and the Guild of Musicians and Singers. In 1999, he graduated from Christ Church University College, Canterbury, with a B.A. (hons.) in Religious Studies, awarded by the University of Kent. He was made a licenced lay reader of the Anglican Independent Communion in October 2005, with general permission to officiate in the Southern Region of England. In August 2009 he was ordained to the Sacred Order of Diaconate. The Reverend Nigel Atkin was then also admitted to the Priestly Order of the Companions of Jesus.
---
A Index | "Who Was Who" Homepage
---