THE D'OYLY CARTE OPERA COMPANY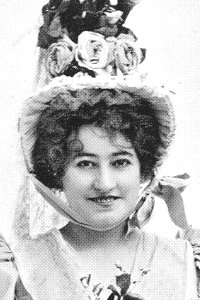 Amy Augarde as Madame Michu in The Little Michus
Amy Augarde (1884-88)
[Born Westminster, Middlesex 7 Jul 1868, died Reigate, Surrey 1 Apr 1959]
Amy Florence Augarde made her first stage appearance at the age of fourteen in 1884 in the chorus on tour with Mr. D'Oyly Carte's "C" (Repertory) Company. In 1885-86 she appeared in New York and Boston with the D'Oyly Carte's First American Mikado Company and, upon her return to Europe, toured Germany and Austria, still in the chorus, with Carte's "Continental Company." She returned to America with D'Oyly Carte's First American Ruddygore Company in 1887, again in the chorus though she appears to have filled in on occasion in the small part of Ruth. She was then engaged at the Savoy where she understudied Jessie Bond, substituting for her as Mad Margaret in Ruddigore (September 1887) and as Hebe in the first London revival of H.M.S. Pinafore (January 1888).
She clearly impressed, and was soon hired away from the D'Oyly Carte to play Lydia Hawthorne in B. C. Stephenson and Alfred Cellier's long-running Dorothy at the Lyric (1888), and then followed up by creating the role of Lady Anne Jermingham in the same pair's Doris, Lyric (April-November 1889). There followed a long string of musical shows, mostly in London, including such hits as The Little Michus (1905-06, Daly's), The Chocolate Soldier (1910-11, Lyric), Shell Out (1915-16, Comedy), and The Naughty Princess (1920-21, Adelphi). Her last appearance was as Dancing Sunbeam in a 1935 revival of Basil Hood and Arthur Sullivan's The Rose of Persia at the Prince's Theatre.
Amy Augarde also had an extensive career as a gramophone artist. She was the only artist with D'Oyly Carte credentials to sing in the first (more or less) complete recording of a Gilbert & Sullivan opera—the 1906 Gramophone Company recording of The Mikado in which she sang both Pitti-Sing and Katisha. In 1908, again for the Gramophone Company, she sang both Hebe and Little Buttercup in a recording of H.M.S. Pinafore, again as the only ex-D'Oyly Carter. Her recording career also featured individual popular songs of the day and selections from some of her successful London musical shows. She was the sister of Louise Augarde.
A more detailed review of her life and stage career after leaving the D'Oyly Carte may be found in "'Born to Music,' the Story of the Augarde Family in England," by Sandra M. A. Sardeson (Heritage Lincolnshire, 1999).
---
A Index | "Who Was Who" Homepage
---