THE D'OYLY CARTE OPERA COMPANY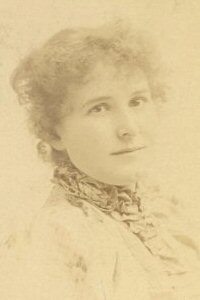 Gertrude Aylward
Gertrude Aylward (1893-94)
Gertrude Aylward toured as Nekaya in Utopia Limited with the "D" Company from December 1893 through June 1894, her only appearance with the D'Oyly Carte organization.
From October 1894 through April 1895, she appeared at the Lyric Theatre, London, creating the role of Blanca in W. S. Gilbert and Osmond Carr's "His Excellency". When George Edwardes' Lyric Company presented "His Excellency" in New York (Broadway, October-December 1895), Miss Aylward moved up to the part of Nanna, originally played by Jessie Bond.
Gertrude Aylward's subsequent London musical parts were in Morocco Bound (Comedy, 1901-02), The Orchid (Gaiety, 1903-05), and The Spring Chicken (Gaiety, 1905-06). In 1919-21 she appeared as a marchioness and then as a cook in the comedy Lord Richard in the Pantry at the Criterion.
---
A Index | "Who Was Who" Homepage
---