THE D'OYLY CARTE OPERA COMPANY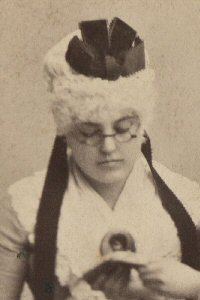 Emma Baker as Dame Hannah in Ruddygore
Emma Baker (1887)
[Born Aurora, Illinois 18 July 1853, died Aurora, Illinois, 16 Oct 1936]
Emma Mabella Baker's lone appearance with the D'Oyly Carte was as Dame Hannah on tour with Carte's Second American Ruddygore Company in New England in 1887. This was not, however, her first venture into Gilbert & Sullivan, nor would it be her last. She was married to baritone George Broderick, who appeared as Sir Despard and, later, Sir Roderick in the same production. Among her earlier roles on tour was Jelly in Gilbert & Clay's Princess Toto (Chicago Museum, May 1884).
She was Katisha in the "wholly discreditable" (as described by The New York Herald) Sydney Rosenfeld pirate production of The Mikado that played briefly at New York's Union Square Theatre on July 20, 1885, nearly a month before the arrival of the D'Oyly Carte. Only one performance was given in violation of a temporary injunction. The cast was brought back on August 17, just two days before the Carte Mikado opening, but faced with the genuine article at the Fifth Avenue Theatre, lasted just two weeks at the Union Square before shifting to the Grand Opera House in Brooklyn. Miss Baker played Katisha again, this time with the Templeton Opera Company, in various New York area theatres between December 1885 and March 1886.
Emma Baker returned to Gilbert & Sullivan, if indeed she ever left it, in the Spring of 1890, on tour as the Duchess of Plaza-Toro in John Stetson's authorized touring production of The Gondoliers. She appeared as Little Buttercup in H.M.S. Pinafore on tour with Helen Lamont's Company that Summer, and again as Buttercup in May 1894 with Eugene Tompkins's Own Company at the Boston Theatre.
In late 1900 or early 1901 she and her husband moved to Illinois. There she continued to appear on stage for many years and also sang as a soloist in several Chicago area churches.
---
B Index | "Who Was Who" Homepage
---