THE D'OYLY CARTE OPERA COMPANY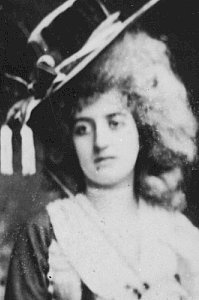 Mildred Baker
Mildred Baker (1896-1901)
Mildred Baker made her London Stage and D'Oyly Carte debut on the first night of The Grand Duke at the Savoy on March 7, 1896, in the small role of Olga. She was a chorister and understudy when The Mikado was revived in July, filling in on at least one occasion for Emmie Owen as Yum-Yum in August. She regaining a regular named role, that of Claudina, in His Majesty when it premiered in February 1897. His Majesty gave way to a revival of The Yeomen of the Guard in May of that year, and Miss Baker was again for a time in the chorus. She substituted for Ruth Vincent as Kate on occasion in July, and took over that role for the remainder of the run in August when Miss Vincent replaced Ilka von Palmay as Elsie Maynard.
She was once again playing a part named Olga in December 1897 when a new version of Offenbach's The Grand Duchess of Gerolstein took the Savoy stage. For the 1898 revival of The Gondoliers, her name appears in the mysterious role of Carlotta, presumably a chorister with some minor stage business. For The Beauty Stone (May to July 1898), she played A Shrewish Girl, and when it yielded to The Gondoliers in July, she took the small role of Vittoria. When The Sorcerer and Trial by Jury were revived in September, she was the First Bridesmaid in Trial, and followed that assignment with Zinnia in the original production of The Lucky Star (January to May 1899). When H.M.S. Pinafore and Trial by Jury took the Savoy stage in June 1899, Mildred Baker was back in the chorus, and played First Bridesmaid in Trial from June to September.
It appears Miss Baker remained with the Company from August 1899 through April 1901. (She is known to have been in the chorus for the November 1900 revival of Patience.) Her next, and last, appearance in a Savoy program was towards the end of the run of The Emerald Isle. She succeeded Agnes Fraser in the role of Kathleen when the latter replaced Isabel Jay as Lady Rose Pippin.
After her stint with the D'Oyly Carte, Mildred Baker moved on to the Apollo and Prince of Wales's Theatres as an extra in the long-running Three Little Maids (May 1902-April 1903). The show was succeeded at the Prince of Wales's by a musical play called The School Girl, with Mildred playing Kate Medhurst, and occasionally substituting as the Mother Superior. It ran well into 1904, and in April of that year, still at the Prince of Wales's, she played the Maid in La Poupee. When The School Girl was produced at Daly's Theatre in New York (October to December 1904), Miss Baker was Mother Superior. Unable to resist any part named Olga, she was back in London in July 1906 to give a single performance in Tchaikovsky's Eugene Onegin at the Lyric.
---
B Index | "Who Was Who" Homepage
---