THE D'OYLY CARTE OPERA COMPANY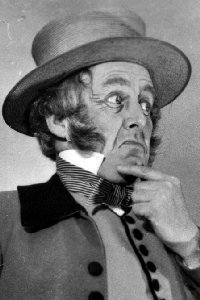 John Banks as Old Adam in Ruddigore
John Banks (1953-62, 1966-67)
[Born c.1922, died 1995]
John Banks first appeared on the London stage as Johnnie Crome in three matinee performances of Britten and Crozier's Let's Make an Opera! at the Lyric Theatre, Hammersmith in 1951.
Before joining the D'Oyly Carte, he was engaged to play the part of Strephon in the film "The Story of Gilbert and Sullivan," starring Robert Morley and Maurice Evans.
A bass chorister, small part player and understudy, Banks joined the D'Oyly Carte Opera Company for the 1953-1954 season. He soon assumed the roles of the Old Adam Goodheart in Ruddigore (November 1953), and Go-To in The Mikado (April 1954). Banks also went on as Second Yeoman in The Yeomen of the Guard in January 1954. The following season he added the Foreman of the Jury in Trial by Jury (shared with Jack Habbick), Guron in Princess Ida, when that opera was restored to the repertoire, and Second Yeoman. His only recording under D'Oyly Carte auspices was as Guron in 1955.
By 1957 Banks had Go-To, Old Adam, Second Yeoman, Guron, and the Foreman to himself, and was sharing Bob Beckett in H.M.S. Pinafore with Habbick. In the 1959-60 season, Bob Beckett was restored to Habbick full-time. Banks picked the Carpenter up again when Habbick retired at the start of the 1961-62 season, but had yielded the part to Anthony Raffell by the time Pinafore was performed at the Savoy in December 1961. As understudy, he also substituted on occasion as the Lieutenant of the Tower in The Yeomen of the Guard (1957-58), Sergeant Meryll in The Yeomen of the Guard (1958-59), The Pirate King in The Pirates of Penzance, Colonel Calverley in Patience (1959-60), the Earl of Mountararat in Iolanthe (1959-61), the Mikado of Japan in The Mikado (1960-61), and Sir Roderick in Ruddigore (1960-61).
Banks left the Company in June 1962, but returned briefly to sing in the chorus for the D'Oyly Carte's North American tour from October 1966 to February 1967. He can also be heard as the voice of Old Adam in the 1966 Halas and Batchelor cartoon version of Ruddigore.
John Banks' association with Gilbert & Sullivan did not end with his D'Oyly Carte career. He was, for a time associated with "Gilbert & Sullivan for All," and can be seen and heard in their 1972 recordings of Trial by Jury (as the Foreman), H.M.S. Pinafore (as Bob Beckett), and Ruddigore (as Old Adam).
---
B Index | "Who Was Who" Homepage
---