THE D'OYLY CARTE OPERA COMPANY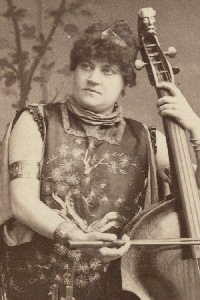 Alice Barnett as the Lady Jane in Patience
Alice Barnett (1879-84)
[Born London 17 May 1846, died Wandsworth, London 14 Apr 1901]
Member of a famous theatrical family, the Kembles, Alice Barnett was originally trained as a concert singer, but in April 1879 took to the stage with D'Oyly Carte's touring Comedy Opera Company as Little Buttercup in H.M.S. Pinafore. She clearly impressed and was selected to create the role of Ruth in The Pirates of Penzance at the Fifth Avenue Theatre in New York on December 31, 1879, after giving American audiences their first look at an authentic Buttercup there. She played Ruth throughout the American tour and again at the Opera Comique when the Company returned to London in July 1880.
Miss Barnett was reputedly the tallest, if not the largest, woman on the English stage, and it was no doubt with her physical appearance in mind that Gilbert crafted the massive Lady Jane in Patience and the formidable Queen of the Fairies in Iolanthe. She created both roles in London, playing Jane throughout the Patience run at the Opera Comique and Savoy, and the Queen of the Fairies until a period of ill health (she described it as "Kemble rheumatism") forced her off the stage in October 1883.
Upon regaining her health the following year, she was unable to dislodge her replacement, Rosina Brandram, in the principal contralto roles at the Savoy. Instead, she performed the Fairy Queen on tour with Carte's No. 1 "Iolanthe" ("F") Company beginning March 1884, and in July of that year transferred to Carte's "C" (Repertory) Company to tour as Buttercup, Ruth, and Jane through December 6.
Thus ended her D'Oyly Carte career. She appeared with Lillian Russell in Grundy and Solomon's short-lived Pocohontas at the Empire in London, and then sailed for America with Miss Russell in February 1885, where she played in Billee Taylor, Claude Duval and Polly (all with music by Solomon). She also gave a single performance as Buttercup in a James C. Duff production of Pinafore on April 4, 1885, at New York's Standard Theatre. She then headed for Australia where she spent three years (1885-88), playing primarily Gilbertian roles (Lady Sangazure in The Sorcerer, Ruth, Jane, the Queen of the Fairies, Lady Blanche in Princess Ida, and Katisha in The Mikado), as well as other parts such as Mrs. Privett in the first Australian production of Alfred Cellier's Dorothy, Leonora Braham in the title role.
Miss Barnett returned to London, appearing in Cellier's Doris at the Lyric (1889), before going on tour in British provinces in Gaiety burlesques and with other opera companies. She returned to London in October 1894 to create the role of Dame Cortlandt in Gilbert and Carr's "His Excellency" at the Lyric. It ran through April 1895, and after a brief turn at the Gaiety in The Shop Girl, Miss Barnett headed for America where she toured in "His Excellency" with George Edwardes' Lyric Company.
She returned to England to tour in The Telephone Girl (May 1896), was back in America for DeKoven and Smith's The Mandarin (November 1896), and then again on tour in England with The Telephone Girl in May 1897. She continued to perform in comic opera and pantomime in London and the provinces until at least March of 1900, the date of her last appearance on the London stage. Alice Barnett died of bronchial pneumonia on 14 April 1901 following an operation.
---
B Index | "Who Was Who" Homepage
---