THE D'OYLY CARTE OPERA COMPANY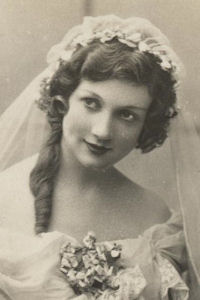 Murielle Barron as the Plaintiff in Trial by Jury
Murielle Barron (1928-32)
[Born Glasgow 12 Apr 1902, died Northwood, London 14 May 1996]
Murielle Barron was educated at Harrogate and studied singing before auditioning with the D'Oyly Carte in October 1927. She joined the D'Oyly Carte chorus in January 1928, her first named part being that of the Plaintiff in Trial by Jury, a role she played as a substitution later that season. In July 1928 she took over the small part of Isabel in The Pirates of Penzance, and the following July added the equally small Chloe in Princess Ida, Ruth in Ruddigore, and Giulia in The Gondoliers to her regular duties. For the 1930-31 season, she assumed the Plaintiff on a regular basis, while swapping Ruth for Zorah in Ruddigore.
When the 1931-32 season began she continued to hold down the Plaintiff, Isabel, Chloe, Zorah, and Giulia, adding Fleta in Iolanthe as well. It was also during this season that she filled in on occasion as Casilda in The Gondoliers.
Bigger things were on the horizon for Miss Barron but they wouldn't be with the D'Oyly Carte. In February 1932, she left the Company, and in March of that year appeared at the Palace in The Cat and the Fiddle. As Muriel Barron, she went on to play a variety of parts in plays, musicals, and pantomime in London, Glasgow and on tour, and also appeared on the concert stage. She enjoyed her greatest successes in the musicals of Ivor Novello, with starring roles in The Dancing Years, King's Rhapsody, Perchance to Dream, and Glamorous Night.
---
B Index | "Who Was Who" Homepage
---