THE D'OYLY CARTE OPERA COMPANY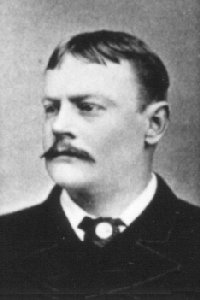 James Barton
James Barton (1881)
[Born c.1852, died New York May 1910]
James Barton, real name James Swann Key, had only one role under D'Oyly Carte auspices, as Archibald Grosvenor in Carte's first New York production of Patience at the Standard Theatre, August 22, 1881. He was replaced as Grosvenor by William T. Carleton in November.
Barton was admitted to the bar in 1878 but soon gave up practicing the law to go on the stage. He had several appearances in the New York area before and after Patience. In November 1879 he appeared for a fortnight at Haverley's Lyceum in something called The Tourists in a Pullman Palace Car, a work he wrote with Will A. Mestayer. He returned to New York as producer and performer with the Comley-Barton Opera Company in 1880-81 in Lawn Tennis (a collaboration with William J. Comley) and Olivette. In December 1882 the Barton Opera Company produced a Carte-sanctioned production of Iolanthe in Baltimore, then toured the opera throughout much of the United States, as far west as St. Louis, until March 1883. For some, if not all, of the tour Barton himself appeared as the Earl of Mountararat.
Barton's last production in New York as a theatrical manager was "a musical absurdity" Wanted, a Partner (Star Theatre, February 1884). He subsequently formed, in collaboration with Horace McVicker, the Milan Grand Opera Company, for the purpose of presenting Italian opera to American audiences. At the time he was known as James Barton Key. By 1886 he was working as a stock broker, though he seems to have returned to the theatre within a few years. In 1895, he was back in New York as stage director for Hamlet II, an operatic burlesque of Shakespeare's tragedy (Herald Square Theatre, May-June 1895).
For a detailed discussion of the Barton Opera Company's production of Iolanthe and further details of his life and career, see Betsy G. Miller's article "James Barton's Iolanthe" in the August 2003 issue of the Sir Arthur Sullivan Society Magazine.
---
B Index | "Who Was Who" Homepage
---