THE D'OYLY CARTE OPERA COMPANY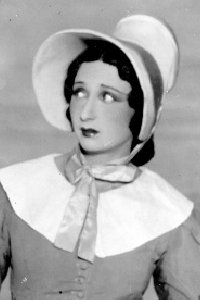 Maisie Baxter as Kate in The Pirates of Penzance
Maisie Baxter (1929-35)
[Born Harrogate 10 Jul 1905, died London 7 Mar 1995]
Maisie Baxter joined the D'Oyly Carte chorus in July 1929, occasionally substituting for Marguerite Hylder as Inez in The Gondoliers during the 1929-30 season. Late in the next season she filled four principal contralto roles: the Queen of the Fairies in Iolanthe, Lady Blanche in Princess Ida, Dame Carruthers in The Yeomen of the Guard, and the Duchess of Plaza-Toro in The Gondoliers, following the tragic death of Bertha Lewis. In August 1931 she began the new season playing Little Buttercup in H.M.S. Pinafore, the Fairy Queen, Blanche, Dame Carruthers, and the Duchess before yielding them all to Miss Lewis's permanent replacement, Dorothy Gill, the next month.
Her new roles from September onward were Kate in The Pirates of Penzance, Saphir in Patience, Leila in Iolanthe, and Inez in The Gondoliers (the latter part shared with Marguerite Hylder). For 1932-33, she yielded Inez to Gwladys Gowrie, and added Chloe in Princess Ida. In 1933-34, she retained her four roles from the previous season while also playing Vittoria in The Gondoliers (shared with Elizabeth Nickell-Lean). The 1934-35 season was her last with the Company. She no longer played Vittoria, but kept Kate, Saphir, Leila, and Chloe until she left the Company when the London season ended on June 29, 1935.
Maisie Baxter changed her name to Linda Gray (Gray was her mother's maiden name) when she left the D'Oyly Carte. She went on to a highly successful career in plays and musicals both in London and on tour:her last appearance in London was as Mrs. Higgins in Lerner and Lowe's My Fair Lady at Drury Lane in 1963.
She was also heard on the radio in the Spring of 1941 as Little Buttercup in a BBC "Home" Service studio presentation of H.M.S. Pinafore. The cast included Derek Olham as Ralph and Sylvia Cecil as Josephine.
---
B Index | "Who Was Who" Homepage
---