THE D'OYLY CARTE OPERA COMPANY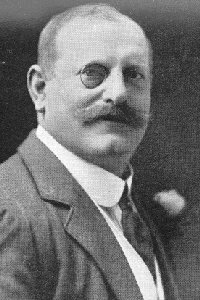 Henry E. Bellamy
Henry E. Bellamy (1888-94, 1896-97)
[Born Oxford c.1861, died Cheltenham, Gloucs. 7 Feb 1932]
Henry Ernest Bellamy got his start with Mr. D'Oyly Carte's "E" Company in 1888, taking his first named parts, Samuel in The Pirates of Penzance and Pish-Tush in The Mikado, in June of that year. When the Company took up The Yeomen of the Guard in November 1888, Bellamy was the Lieutenant of the Tower. He added Luiz in The Gondoliers in February 1890 when "E" Company launched the first provincial production of that opera. In August 1890 he shifted to Company "D," appearing again as the Lieutenant. When Company "D" ended its tour in December, Mr. Bellamy returned to "E" Company and took up Samuel, Pish-Tush, and Luiz again.
He played those roles through the 1892 season, adding John Dory in The Vicar of Bray when that opera replaced The Gondoliers in the repertoire in June. When Billee Taylor succeeded The Vicar of Bray in the repertoire in April 1893 (for one month), he took the role of Sir Mincing Lane, and when Haddon Hall replaced Iolanthe in May, he appeared as Sing-Song Simeon.
On December 1, 1893, Company "E" ceased to be a repertory company, and gave Utopia Limited its first provincial production, with Bellamy as Captain Corcoran. H.M.S. Pinafore was added to the schedule in September 1894 with Bellamy as the Bill Bobstay. He left Company "E" and the stage in October to embark on a new career as Business Manager for Carte's Company "B" the following month.
Over the next 26 years, Henry Bellamy served as Business Manager for several D'Oyly Carte Companies. He took D'Oyly Carte productions to South Africa three times (1896-97, 1902-03, and 1905-06), returning to the stage briefly on the first visit to reprise Captain Corcoran in Utopia. By the time of the second London Repertory Season he was the Company's sole Business Manager. He retired from that position in March 1920.
---
B Index | "Who Was Who" Homepage
---