THE D'OYLY CARTE OPERA COMPANY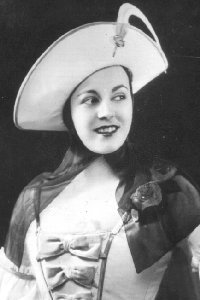 Brenda Bennett as Casilda in The Gondoliers
Brenda Bennett (1936-38)
[Born Winnipeg, Manitoba 21 Apr 1914, died 8 Apr 2014]
After studying singing and ballet, and appearing on the concert stage in her native Canada, Brenda Bennett went to London for further study under former Savoyard Gordon Cleather. She auditioned with Rupert D'Oyly Carte in 1935, and was engaged to play principal soprano roles beginning in January 1936, replacing Kathleen Frances who had left the Company at the end of the year.
She immediately assumed the roles of Mabel in The Pirates of Penzance, Phyllis in Iolanthe, Yum-Yum in The Mikado, Rose Maybud in Ruddigore, and Casilda in The Gondoliers. Miss Bennett soon was also appearing in the smaller role of Lady Ella, which she assumed on a full-time basis at the start of the 1936-37 season. She exchanged Casilda for Gianetta in The Gondoliers at the start of the following season, and began sharing Phyllis with Ann Drummond-Grant, and Ella with Margery Abbott.
In May 1938, the D'Oyly Carte hired Viola Wilson as a new soprano, giving the new singer Phyllis, Yum-Yum, and Gianetta. Miss Bennett left the Company at the end of the London season in July 1938.
Brenda Bennett can be heard on the D'Oyly Carte's 1936 recording of The Mikado as Yum-Yum.
---
B Index | "Who Was Who" Homepage
---