THE D'OYLY CARTE OPERA COMPANY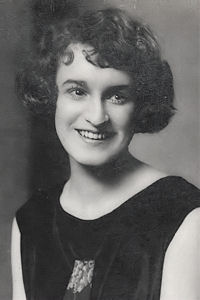 Mavis Bennett
May (Mavis) Bennett (1921-22)
[Born Redditch, Worcestershire 28 Mar 1900, died Stalbridge, Dorset 28 Jan 1990]
May Bennett began singing in local concerts at the tender age of nine, and in amateur operatic productions at 14. She next went to Birmingham to study singing, and subsequently audition with the D'Oyly Carte Opera Company. She joined the D'Oyly Carte Repertory Company chorus in March 1921. During the 1921-22 season she shared the small roles of the Lady Ella in Patience (with Elsie Griffin) and Kate in The Yeomen of the Guard (with Elsie Griffin and Helene François). When she was still sharing Ella and Kate in October 1922, she left the D'Oyly Carte.
She appeared on the concert stage and in several London shows over the next few years, most notably in opera at the Old Vic under the name of Mavis Bennett, but she became an overnight sensation through the medium of radio. She was chosen to appear as vocalist with the Dutch violinist De Groot for his first BBC broadcast in 1925, and her voice lit up the switchboards. Acclaimed as "The Nightingale of the Wireless," she was soon appearing regularly on radio both in England and on the Continent, and became a frequent recording artist for HMV.
The D'Oyly Carte belatedly recognized the talent that got away, and in 1927 she was invited to participate in the Company's first electrical recording of The Gondoliers. She accepted and sang the role of Casilda.
Mavis Bennett's radio and gramophone career ended in 1939 when an operation damaged her throat. She then turned to vocal teaching, a career that brought her much satisfaction. A detailed account of her life and professional career is contained in Michael Walters' periodical Gilbertian Gossip (No. 25, Winter 1990-91).
---
B Index | "Who Was Who" Homepage
---