THE D'OYLY CARTE OPERA COMPANY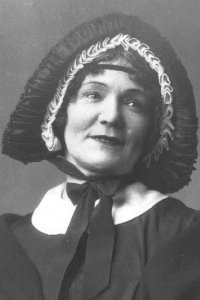 Anna Bethell as Mrs. Partlett in The Sorcerer
Anna Bethell (1909-12, 1913-14, 1915-26, 1929-34, 1938-39)
[Born Lancashire 11 Mar 1882, died Bournemouth 2 Mar 1969]
Best remembered for her portrayal of Mrs. Partlett in The Sorcerer, Anna Bethell's remarkable D'Oyly Carte career spanned four decades. She joined Carte's Repertory Opera Company in September 1909, and immediately assumed the small roles of Kate in The Pirates of Penzance, Lady Saphir in Patience, Leila in Iolanthe, and Chloe in Princess Ida. She added Vittoria in The Gondoliers to her duties in July 1910, and played those five parts until leaving the Company for a spell in May 1912. She returned in July 1913, adding Peep-Bo in The Mikado to her repertoire, but left again in March of the following year.
Upon returning again in July 1915, Miss Bethell found herself in the chorus for two seasons before reclaiming Saphir in 1917. In 1918 she became understudy to Bertha Lewis in the principal contralto parts, adding Mrs. Partlett in The Sorcerer and Inez in The Gondoliers to her regular assignments. In 1921-22 she took on Chloe again, and in 1922-23 reclaimed Kate in Pirates. In May 1923 she also filled in for Catherine Ferguson as Hebe in H.M.S. Pinafore, Melissa in Princess Ida, Pitti-Sing in The Mikado, and Tessa in The Gondoliers.
In 1923-23 her principal roles were reduced to Mrs. Partlett, Chloe, and Inez, and in July 1925 she joined her husband Sydney Granville in the D'Oyly Carte "New" Company, as a member of the chorus. She, Granville, and a few other members of the "New" Company left the Company for Australia at the end of the year.
Sydney Granville was back in the D'Oyly Carte in 1928, and Anna Bethell returned in 1929 as a guest artist as Mrs. Partlett when The Sorcerer was revived. Over the next ten years she would return to the Company whenever The Sorcerer was given, and between May and September 1931 filled in on an emergency basis in the principal contralto roles of Little Buttercup in H.M.S. Pinafore and Dame Hannah in Ruddigore. She recorded Mrs. Partlett in D'Oyly Carte's 1933 abridged recording.
Her last two appearances with the Company were as Mrs. Partlett in guest engagements in London in June 1938 and June 1939. This was not the end of her D'Oyly Carte career, however, as in January 1947 she returned as stage director to help rebuild the Company's performance standards after the war years. She served as stage director until April 1949, then left to join the J. C. Williamson Company in Australia, producing their 1949-50 series of Gilbert & Sullivan.
---
B Index | "Who Was Who" Homepage
---