THE D'OYLY CARTE OPERA COMPANY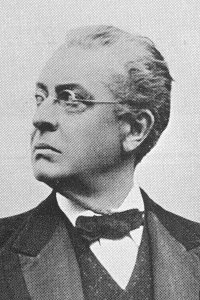 J. D. Beveridge as Dr. Jüttner in Old Heidelberg
J. D. Beveridge (1875)
[Born Dublin 28 Oct 1844, died London 8 Apr 1926]
In a fifty-six-year career as an actor James Dovey Beveridge spent only a brief time under D'Oyly Carte Opera management. He made his professional debut in Oldham in Pizzaro in August 1861, and his first London Stage appearance at the Adelphi as Sir Alfred Colebrooke in Byron & Boucicault's Lost at Sea in October 1869.
When the Royalty Theatre closed in June 1875, Trial by Jury went on tour under D'Oyly Carte management. Beveridge played the Usher in Trial for at least a portion of that tour, but was not in the cast when the Company returned to London in October. Beveridge's only London appearance in Trial was as a juryman in the Compton benefit performance at Drury Lane in March 1877.
Over the next forty years, Beveridge would appear in the original casts of a number of London productions, principally at the Adelphi, where he worked off and on from 1881 to 1897. He also appeared in the British provinces, where Pygmalion in W. S. Gilbert's Pygmalion and Galatea was among his popular roles. Perhaps his greatest success came in the villainous part of Phillip Radley in Henry Pettitt's drama Taken from Life (Adelphi, 1881, and on tour). It was said to have made his fortune. Beveridge traveled to New York in 1904 under the management of Charles Frohman, appearing in that city most notably in Shaw's Man and Superman from 1905 to 1907.
He returned to the London Stage in 1907, continuing to perform there for another decade. His last role in London was Father Brady in the Irish comedy Julyann (Globe, July 24, 1917).
---
B Index | "Who Was Who" Homepage
---