THE D'OYLY CARTE OPERA COMPANY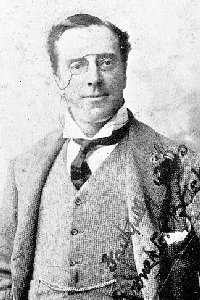 Broughton Black
Broughton Black (1890)
[Born c.1860, died 1926]
Broughton Black had a brief career with the D'Oyly Carte organization. He played Luiz in The Gondoliers with D'Oyly Carte Opera Company "C" from March 1890 until July 1890, at which point he was replaced by Helier Le Maistre. Black then transferred to Company "D." Company "D" toured The Mikado and The Yeomen of the Guard from August 4 to December 6, 1890, with Black as Pish-Tush and Sergeant Meryll. This appears to have been his last appearance with the D'Oyly Carte.
His only recorded appearance on the London Stage was in May 1906 as Sergeant Bogeda in a Spanish comic opera, Petronella, at Great Queen Street Theatre.
Later in his life, as Virgilius Black, he was closely associated with the Gilbert & Sullivan Society, frequently giving music lectures and drawing upon his stage reminiscences at Society meetings. He wrote an article, "Some Unauthorized Gags," for The Gilbert & Sullivan Journal, October 1925, describing gaffes and departures from the script that occurred while he was on tour with the D'Oyly Carte. He died the following year.
---
B Index | "Who Was Who" Homepage
---