THE D'OYLY CARTE OPERA COMPANY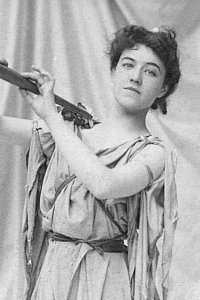 Bessie Bonsall
Bessie Bonsall (1895-97)
[Born Ottawa, Ontario 30 Aug 1870, died Paris, Ontario 15 Dec 1963]
A native of Ottawa, Ontario, Mary Elizabeth (Bessie) Bonsall studied at the Toronto College of Music beginning in 1890. She was appointed as a soloist with the Broadway Tabernacle in New York City, and then joined a concert troupe accompanying Belgian violinist Ovide Musin, with whom she toured for two years. In 1895 she became a student of Charles Santley in London, and later that year joined the D'Oyly Carte Opera Company at the Savoy as chorus member and understudy to Jessie Bond.
She filled in as Pitti-Sing in The Mikado on several occasions during the 1895-96 and 1896-97 revivals, her longest stretch being from August 29 to October 2, 1896 during Miss Bond's absence. She sang in the chorus of The Grand Duke as well. In February 1897, she created the part of Dame Gertrude at the Savoy in the original production of His Majesty. The opera ran but 61 performances, closing in April. She returned to the Savoy chorus for The Yeomen of the Guard in May 1897, but was no longer with the Company in November 1897 when The Grand Duchess of Gerolstein was performed.
Miss Bonsall had by then left the D'Oyly Carte for a series of concert, drawing-room, and oratorio engagements. Returning to North America, she went on tour with John Philip Sousa's Band, the Redpath Grand Concert Company, and Sorrentino's "Banda Rossa" singers and dancers. The Toronto Globe wrote of her: "There are many fine contralto singers in the world, but those having voices like Miss Bonsall's can be counted on the fingers of one hand."
---
B Index | "Who Was Who" Homepage
---