THE D'OYLY CARTE OPERA COMPANY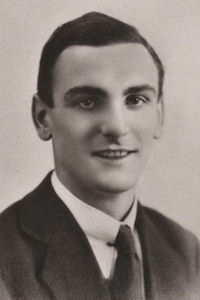 Webster Booth
Webster Booth (1923-27)
[Born Birmingham 21 Jan 1902, died Llandudno, Wales 21 Jun 1984]
Leslie Webster Booth made his D'Oyly Carte Opera Company debut in the chorus of The Yeomen of the Guard on September 9, 1923, at the Theatre Royal, Brighton. It was his first appearance on the stage, and he was known as Leslie W. Booth at the time. That season he made an occasional substitute appearance as Leonard Meryll in The Yeomen of the Guard.
Over the next two years he appeared regularly in the tiny parts of First Yeoman in The Yeomen of the Guard and Francesco in The Gondoliers, but for the 1926-27 season was left with only First Yeoman, yielding Francesco to Herbert Aitken. Dissatisfied with his progress with the Company, he left the D'Oyly Carte in June 1927, shortly after their return from Canada.
Primarily a singer, rather than an actor, he next turned to concert and oratorio both in London and the provinces. He returned to the theatre at Drury Lane in March 1930, and in 1931, as Webster Booth, participated in the D'Oyly Carte's abridged recording of The Gondoliers as Luiz.
His career as a performer soon blossomed in a number of genres:grand opera at Covent Garden, musical comedy in the West End, over 1,000 radio and television broadcasts, and several films (his first picture was Invader in 1934, starring Buster Keaton).
Booth met his second wife Anne Ziegler on the set of the film Faust, in which she was to sing Marguerite and he was to perform the title role. Together Booth and Ziegler formed a popular vocal duo performing a repertoire of primarily light classical numbers, including their own production of A Night in Venice. Together, they toured England, Canada, South Africa, Australia, and New Zealand throughout the 1940s and 50s.
Booth and Ziegler wrote a joint autobiography, "Duet," "the exciting and unusual story of their climb to success and fame," published in 1951 by Stanley Paul, London.
---
B Index | "Who Was Who" Homepage
---