THE D'OYLY CARTE OPERA COMPANY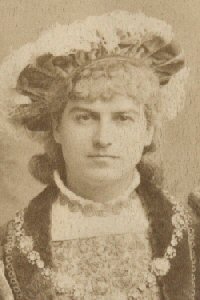 Henry Bracy as Prince Hilarion in Princess Ida
Henry Bracy (1884)
[Born Cwindu, Maesteg, Wales 8 Jan 1846, died Sydney, Australia 31 Jan 1917]
Henry F. Bracy was born Samuel Thomas Dunn. He was an established principal tenor on the London Stage when he was engaged by D'Oyly Carte to create the role of Prince Hilarion at the Savoy in Princess Ida. He played the part throughout its run, from January through October 1884. It was his only appearance with the D'Oyly Carte.
Earlier he had played principal tenor leads in Les Mousquetaires (Globe, 1880), The Mascotte (Comedy, 1881), Madame Favert (Avenue, March 1882), the original production of Bucalossi's Les Manteaux Noirs (Avenue, June 1882), Olivette (Avenue, January 1883), La Belle Lurette (Avenue, March 1883), and Offenbach's Bluebeard (Avenue, June 1883).
His career in London comic opera continued after Princess Ida, first at the Empire in the first London production of The Lady of the Locket (March 1885), then at the Comedy in the London premiere of Erminie (November 1885) and in The Lily of Leoville (May 1886), and later at the Strand in a revival of Alfred Cellier's The Sultan of Mocha (September 1887) and the first London production of Gustave Michaelis's Babette (January 1888).
Bracy eventually traveled to Australia, and in so doing returned to Gilbert & Sullivan. He is reported to have performed there in Iolanthe (1888), Princess Ida (1893), and The Yeomen of the Guard (1904); and he stage managed or produced H.M.S. Pinafore (1895), The Yeomen of the Guard (1896), The Sorcerer (1905), Princess Ida (1905), The Mikado (1905), The Gondoliers (1905), and the first Australia production of Utopia Limited (1906).
His son, Sidney Bracy, toured in The Emerald Isle with the D'Oyly Carte in 1901-02.
---
B Index | "Who Was Who" Homepage
---