THE D'OYLY CARTE OPERA COMPANY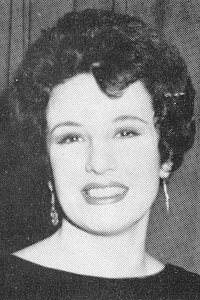 Dawn Bradshaw
Dawn Bradshaw (1956-64)
[Born c.1934, died Preston, St. Mary, Suffolk 21 Nov 2009]
Dawn Bradshaw appeared with the D'Oyly Carte Opera Company as chorus member and small role player from May 1956 until July 1964. During her tenure with the Company, she appeared regularly as Fleta in Iolanthe (1956-62), Fiametta in The Gondoliers (1956-57, shared with Anne Sessions; 1958-59, shared with Mary Samsom; and 1959-62, on her own), Ada in Princess Ida (1957-64), the First Bridesmaid in Trial by Jury (1958-59, shared with Jane Fyffe; and 1959-63, on her own), and Zorah in Ruddigore (1960-62).
When the D'Oyly Carte recorded Iolanthe in 1960 and The Gondoliers in 1961, Miss Bradshaw played her usual parts of Fleta (dialogue only, of course) and Fiametta.
After the 1961-62 season, the Company began to give her parts to others. Fleta went to Jacqueline Mitchell, and Fiametta was taken over by Mary Sansom for 1962-63 (Ruddigore was not performed that season). In September 1963, when Joy Morney took over First Bridesmaid and Vanessa Gold assumed Zorah, Dawn Bradshaw was left with only Ada, which she played until the season ended in July 1964, at which point she left the Company. She married Michael Porter, second flute with the D'Oyly Carte's orchestra, in December 1963.
---
B Index | "Who Was Who" Homepage
---