THE D'OYLY CARTE OPERA COMPANY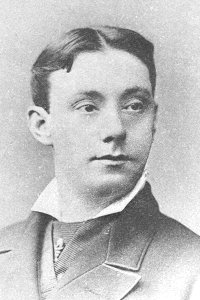 John J. Braham
John J. Braham (m.d., 1885-86, 1887, 1894)
[Born England c.1848, died Brooklyn, N.Y. 28 Oct 1919)]
John Joseph Braham came to America from England in 1859, and in 1862 (at the age of 14) appeared as a violinist at the Canal Street Theatre in New York. After touring as a virtuoso, he accepted the post of musical director of Pike's Opera House in Manhattan. He was in charge of music at several New York and New England theatres, and in 1878 conducted the first American production of H.M.S. Pinafore at the Boston Museum.
He was closely associated with the Gilbert & Sullivan operas thereafter, directing the Collier Standard Opera Company production of Iolanthe that inaugurated the Boston Bijou Theatre (December 1882-April 1883), a production authorized by D'Oyly Carte and featuring a number of D'Oyly Carte performers. He worked often with producers Edward E. Rice and John Stetson:the latter association leading to his engagement to conduct D'Oyly Carte's Second American Mikado Company and second American Ruddygore Company on tours in New England in 1885-86 and 1887. In between (January 1887), he directed a Stetson (though non-D'Oyly Carte) revival of Patience in Boston, again with several D'Oyly Carters (Courtice Pounds, Geraldine Ulmar, Signor Brocolini among others) in the cast.
In 1889 he directed the first Boston production (by arrangement with D'Oyly Carte) of The Yeomen of the Guard, and the following year gave Boston audiences the Carte-sanctioned production of The Gondoliers. In 1894, he was engaged to direct D'Oyly Carte's American production of Utopia Limited in New York and Boston.
John Braham also enjoyed some success as a composer. He combined with Rice on the music for Hiawatha and The Corsair. The latter ran for 180 performances at New York's Bijou Opera House in 1887-88. But it was his association with Gilbert & Sullivan for which he will be most remembered. When Braham died in 1919, he was eulogized by Rice who declared that the Gilbert & Sullivan operas would never have attained their huge popularity in America were it not for the judicious changes made by Braham before their presentation.
---
B Index | "Who Was Who" Homepage
---