THE D'OYLY CARTE OPERA COMPANY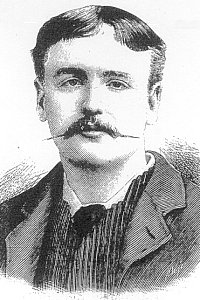 Deane Brand
Deane Brand (1881-82)
[Born Liverpool 10 Mar 1860, died Clapham-common, London 11 Aug 1899]
James Deane Brand was originally in the British Navy, during which time he appeared in amateur productions in the colonies.Upon his return to England he decided on a musical career and studied at the Royal Academy of Music.
He made his theatrical debut as Captain Corcoran in H.M.S. Pinafore on tour with Mr. D'Oyly Carte's "B" Company in Ryde in July 1881.From July to November 1881 he toured as the Captain and as Sir Marmaduke Pointdextre in The Sorcerer.From January to March of 1882, still with the D'Oyly Carte, Brand toured as Captain Harleigh of the Coldstream Guards in Stephens and Solomon's Claude Duval. This appears to have been his last engagement with the Company.
While performing with the D'Oyly Carte, he met and married Kate Chard. In 1883 Brand and Chard sailed for Australia where, over the next year and a half, he took pricipal parts in such operas as Les Manteaux Noirs, Manola, Barbe Bleue, and Boccaccio. Upon returning to England, Miss Chard returned to the D'Oyly Carte to create the role of Lady Psyche in Princess Ida at the Savoy. Brand's activities during much of this period are less certain, but in April 1885 he made his London debut in the title role in François the Radical, a comic opera, adapted from the French (Royalty Theatre). In 1886 he tried his hand at management, producing and playing in a comic opera called Rhoda, both in London and the provinces. Rhoda was a failure, and Brand lost heavily as a result.
Deane Brand had a couple of London pantomime engagements in Dick Whittington (Olympic, December 1892-March 1893) and Cinderella (Lyceum, December 1893-March 1894), then appeared in Cinderella in New York (Abbey, April-June 1894). In 1896 he managed and appeared in a musical farcical comedy called Playing the Game. Playing the Game had only five performances in London in June, but toured for several months in the fall.
Brand died on August 11, 1899, of rheumatic fever. He was just 39.
---
B Index | "Who Was Who" Homepage
---