THE D'OYLY CARTE OPERA COMPANY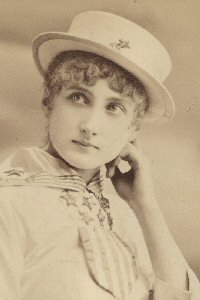 Maude Branscombe as Hebe in H.M.S. Pinafore
Maude Branscombe (1880)
Maude Branscombe made her first appearance on the New York Stage in 1876 as Cupid in a revival of Ixion at the Eagle Theatre. She was reportedly the most constantly photographed beauty of her day. She made her New York Gilbert & Sullivan debut as Hebe in one of the many pirate productions of H.M.S. Pinafore at the Lyceum on March 10, 1879. That year she appeared in several productions of Pinafore as well as in Rip Van Winkle.
Miss Branscombe's only engagement with the D'Oyly Carte organization was with R. D'Oyly Carte's Second American Pirates of Penzance Company. The Company gave what appears to have been its last performance of Pirates in Philadelphia on April 10, 1880. The next three weeks (April 12-May 1, the first two in Philadelphia, the third in Baltimore), however, they appeared in H.M.S. Pinafore, with Miss Branscombe as Hebe.
In November 1880 she appeared in a non-D'Oyly Carte revival of The Pirates of Penzance at the Brooklyn Academy of Music. Miss Branscombe later traveled to London, appearing there as Gomez, a page, in the original production of Bucalossi's comic opera Les Manteaux Noirs (Avenue Theatre, June-December, 1882).
---
B Index | "Who Was Who" Homepage
---